1School of Physics and Electric Engineering, Anyang Normal University, Anyang 455000, Henan, China.
2College of Science, Institute of Materials Physics and Chemistry, Nanjing Forestry University, Nanjing 210037, Jiangsu, China.
3School of Mechanical, Medical and Process Engineering, Queensland University of Technology, 2 George St, Brisbane City QLD 4001, Brisbane, Australia.
Correspondence to: Prof. Liangzhi Kou, School of Mechanical, Medical and Process Engineering, Queensland University of Technology, 2 George St, Brisbane City QLD 4001, Brisbane, Australia. E-mail: liangzhi.kou@qut.edu.au
Abstract
Polarization has a significant impact on chemical reactions, as demonstrated by recent research of photo-/electrocatalytic water splitting, electrocatalytic CO2 reduction, water treatment, dye degradation and so on. This review summarizes the fundamental influence of polarization on the physical/chemical properties of catalysts and discusses polarization-dependent catalytic processes. Based on the research progress of polarization-modulated chemical reactions, we draw the conclusion that the control of polarization can be used to adjust the reactivity and selectivity of various catalytic reactions by tuning the miscellaneous fundamental properties of polarized catalysts. At the end of the review, the future research challenges are also discussed, including the ultrafast reversal of polarization, the magnetic-field control of chemical reactions through the magnetoelectric effect and in-plane polarization.
Keywords
Polarization reversal, electrocatalysis, water splitting, photocatalysis
INTRODUCTION
Chemical catalysis, which can convert reactants into desirable chemical products, has attracted extensive research attention in recent years due to its potential for alleviating air pollution and the urgent energy crisis. Numerous catalysts have been proposed for CO2 and N2 reduction, water splitting and so on. However, the catalytic activities and efficiencies of these catalysts remain far from the required standards for practical applications due to the intrinsic constraints from the Sabatier principle and the adsorption scaling relationship, which can be evaluated with scanning probe microscopy by visualizing the surface properties and localized electrochemical activity[1].
For non-polarized catalysts, external stimuli, such as strain deformation, surface passivation and electric fields, have been proposed to improve catalytic performance but the upper limit of efficiency imposed by the linear scaling relation cannot be lifted. In contrast, in polarized materials, such as ferroelectrics, pyroelectrics, piezoelectrics and their associated composites materials (see Figure 1A), the adjustment of polarization is considered as one of the most promising methods to break the upper limit of efficiency and boost catalytic activities. Similar to the influence of external electric fields on the gas adsorption/desorption behavior of field-effect transistor sensors, which is realized by adjusting the electron transfer between the gas and substrate at the interface[2-4], the electric spontaneous polarization in polarized catalysts can tune the adsorption behavior of reactants, intermediates and products in the same manner. It has been predicted that the adsorption intensity of ionic species at the catalyst surface can be incremented by polarization of the material, where the adsorption behavior of polar species is dependent on the polarization direction[5-7]. In addition to changing the interfacial electron transfer, the polarization transformation inevitably results in reconstruction, namely, the rearrangement of the electric domain orientation. This provides an opportunity to break the adsorption scaling relationship. Thus, the physicochemical reactivity is dependent on the structural domain orientation and the surface polarization in the potential of the material[8-10], which can adjust the electro- and photocatalytic performance.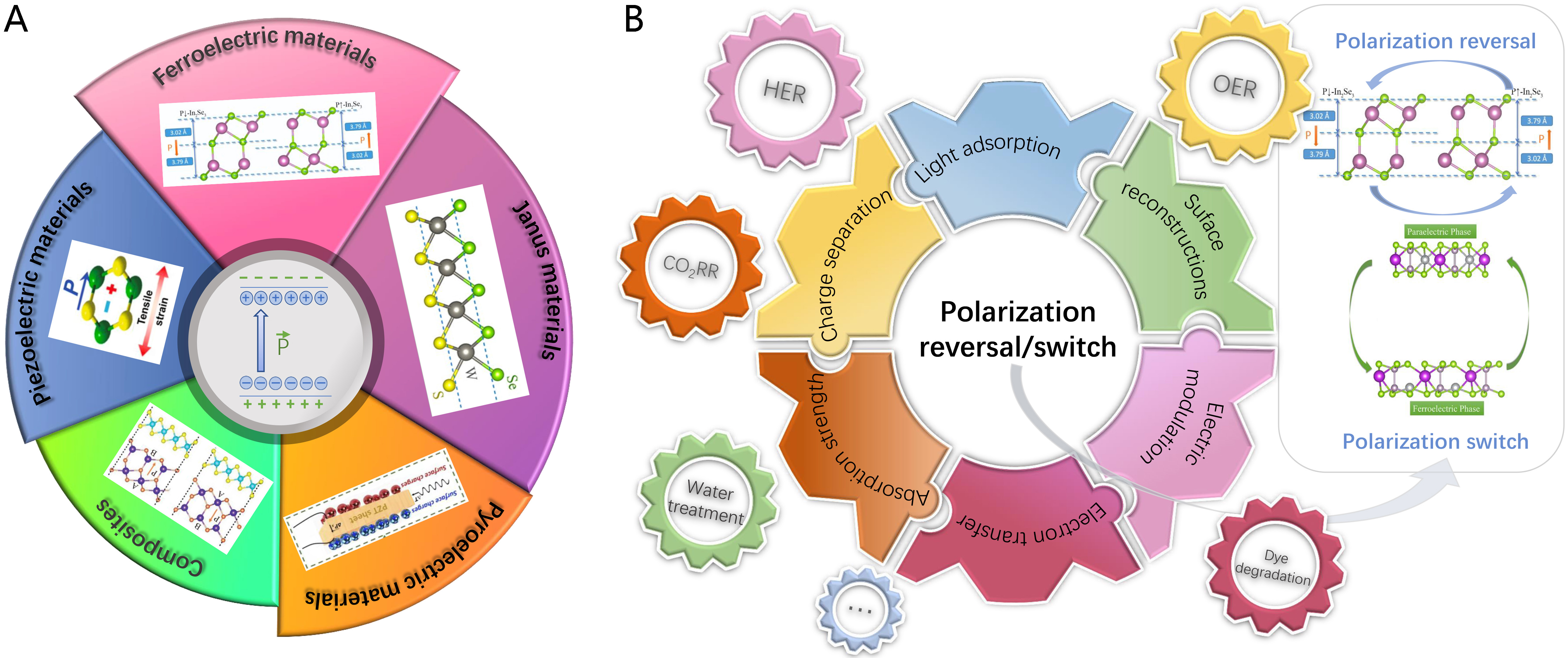 Figure 1. Schematic illustration of (A) polarized materials and (B) polarization-driven catalysis involving polarization-dependent fundamental properties and catalytic reactions.
In addition to the remarkable impact on the adsorption behavior, the electron-hole separation of catalytic materials is also significantly influenced by the electric spontaneous polarization[11,12]. With regards to photocatalysis, the polarization allows for good separation of the light-excited charge carriers to optimize the efficiency of catalysis[13,14], as demonstrated in organic photovoltaics, where ferroelectric polymers were used to promote charge separation and improve the overall efficiency of the cell[15,16]. Similar phenomena were observed in the polarization-modulated photocatalytic activation and photovoltaic conversion of tetragonal BaTiO3 (BTO)[12,17]. The chemical interaction between the reactants and the catalyst in electrocatalysis can be influenced as a result of polarization[18]. For example, poled Bi0.5Na0.5TiO3 (BNT) was found to be a superior catalyst for the oxygen evolution reaction (OER) with better performance than that of the unpoled material[19]. A positive polarization causes the Tafel slope to decline from 85 to 39 mv/decade, with a threefold increase in mass activity. The intensely improved OER activity of the polarized specimen can be ascribed to the proper Schottky barrier and flat-band potential between the electrolyte and electrode, which govern the OER performance and can be tuned by remnant polarization. In Janus transition metal dichalcogenides, an enhancement in catalysis responsiveness and selectivity was found, as their surface stoichiometry, reaction activation and adsorption intensity were dramatically regulated by their polarization[20].
As well as adsorption behavior and charge separation [Figure 1B], some other physical and chemical properties of catalytic materials are also remarkably influenced by electric spontaneous polarization and therefore enable tunable chemistry on poled surfaces[21,22]. Inspired by the promising potential of polarization-driven catalysis, in the present review, we briefly highlight recent research progress in this important field. The strategies to control and characterize polarization are first introduced. We then review the research progress for the polarization-driven catalysis of water splitting, CO2 reduction, dye degradation and redox reductions. Further challenges and possible research directions are discussed in the final section. This review provides an overview of polarization-driven catalysis and is anticipated to inspire experimental demonstrations in the near future.
STRATEGIES TO CONTROL AND CHARACTERIZE POLARIZATION
Ferroelectric, piezoelectric and pyroelectric materials are traditional polarized materials. In ferroelectric materials, there is a spontaneous polarization that can be reversed or reoriented with an external electric field[23]. Similarly, a voltage will appear between their two ends of the piezoelectric materials, when they are subjected to pressure[24]. With regarding to pyroelectric materials, their internal spontaneous polarization temporarily changes with a change in temporal temperature[25]. Consequently, polarization (including its magnitude and direction) in these materials can be controlled by external electric fields[26-28] or other physical stimuli, such as temperature[29], force[30-32], ultrasonic waves[33] and optical pulses[34,35]. According to X-ray photoelectron spectroscopic binding energy shifts, charge-sensitive states on materials can be derived[36]. Therefore, X-ray photoelectron spectroscopy is capable of characterizing the polarization of surfaces of free ferroelectric thin films[37-42].
Recently, surface chemical engineering in specific chemical environments has been utilized to control the polarization orientation in experimental works[43-46]. Since surfaces are freely available for structural reconstruction, they can be in chemical equilibrium in a managed environment. Polarization in bulk can be varied according to the compensation of surface ions, similar to the case with an applied voltage. This can be explained by the fact that, as shown in Figure 2A-C, when a positive/negative charge is applied to the top of the thin film, the double-well free energy becomes unsymmetrical. The polarization orientation is inverted if the surface charge has the same polarity as the bound charge[47]. Hereinafter, some recent research works are presented for controlled polarization by surface chemical engineering.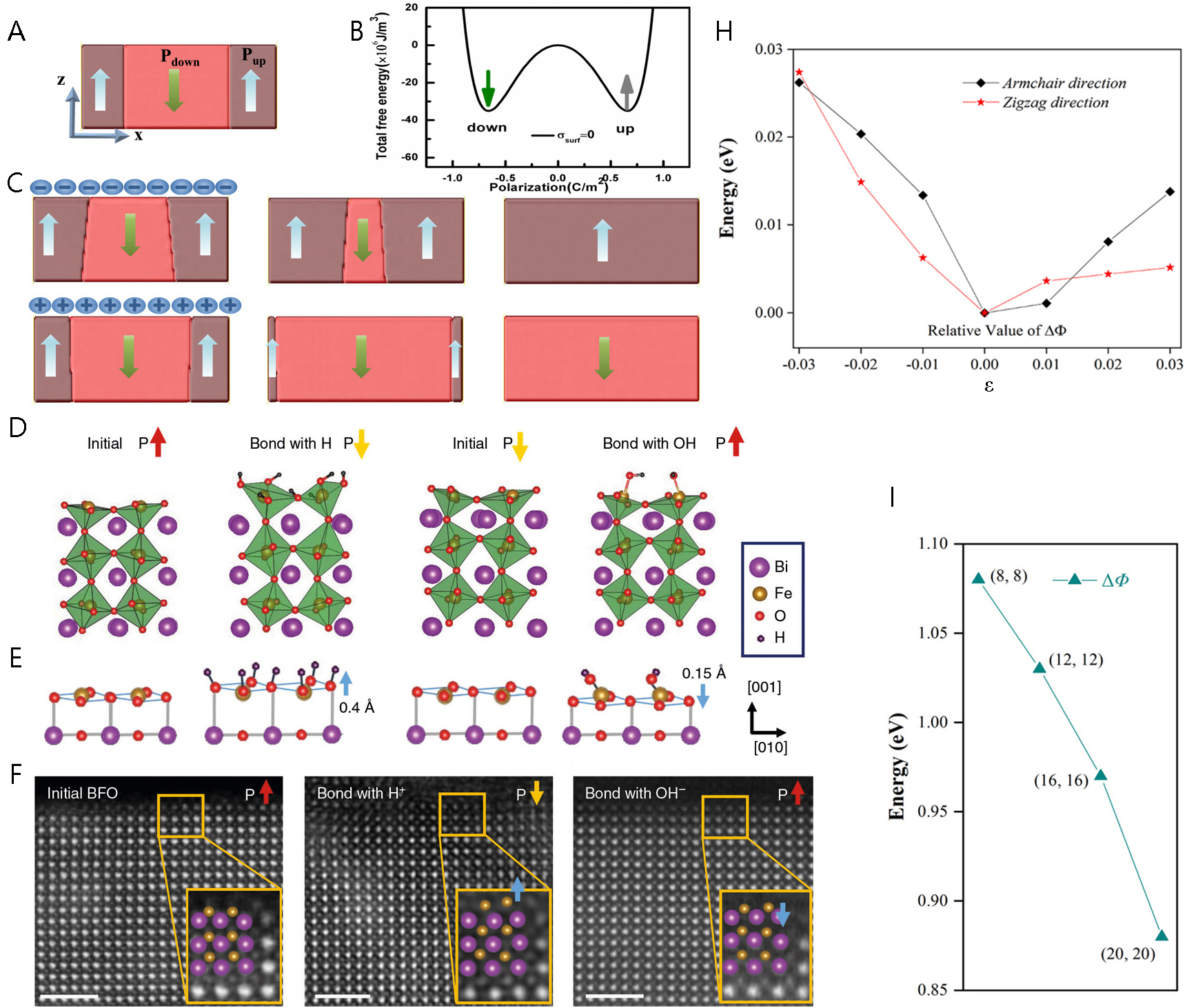 Figure 2. (A) Initial domain structure of 30 nm thick PZT thin film without surface charge and (B) its corresponding double-well total free energy. (C) Evolution of domain at different densities of positive and negative surface charges[47]. (D) Polarization of BFO switched from upward/downward to downward/upward after adsorption of four H and two OH radicals. (E) Density functional theory simulations showing displacement of Fe and O atoms along the Z-axis of the BFO surface with the adsorption of four H and two OH. (F) Scanning transmission electron microscopy images of BFO thin film, including the pristine state and the case of contact with Milli-Q water and an acidic solution[43]. (G) Variations of electrostatic potential difference as a function of armchair and zigzag strains in WSSe monolayer[20]. (H) Variations of electrostatic potential difference as a function of size for WSSe armchair nanotubes[55]. PZT: Pb(Zr0.2Ti0.8)O3; BFO: BiFeO3.
BTO films
The adsorption of water was found to have a significant effect on the out-of-plane polarization of ultrathin films according to both theoretical and experimental results[43,48]. For example, Deleuze et al.[48] found that water adsorption has the ability to reverse the polarization of ultrathin BTO films. Interestingly, different behaviors were observed on opposite surfaces. Water molecules were dissociated spontaneously at the surface of the BaO end and the downward polarization domain was stabilized, irrespective of the original polarization. In contrast, at the TiO2-terminated surface, the interference of water with the TiO2-terminated surface always results in a domain that has an upward polarization. From theoretical studies of BTO (001) plates grown epitaxially on a Pt (001) surface, it was found that the stability of the ferroelectric plates could be improved compared to paraelectric plates. Because of the Pt-O bond, the local polarization of the Pt/BaTiO3 interface was altered and that of the central unit cell increased[49].
BiFeO3 films
In addition to BTO films, similar phenomena have also been found in BiFeO3 (BFO). The downward ferroelectric domains are spontaneously inverted to the original upward state when an initially upwardly polarized BFO film (5 × 5 μm2) with downward ferroelectric domains is introduced to a drop of aqueous solution (Milli-Q water, pH = 7), as verified from in-situ piezoresponse force microscopy images[50]. Tian et al.[43] reported that the reconstructed chemical bonding on the surface of ferroelectric BFO in an aqueous solution results in reversible polarization switching, due to the adequate formation of chemical bonds on its surface that is polarization selective. As shown in Figure 2D, OH- and H+ are preferentially adsorbed by the BFO surface with downward and upward polarization, respectively. First-principles simulations showed that when H and OH come into contact with O and Fe in the energetically favorable FeO2 plane on the BFO surface[51], ionic reactions occur to build M-O-H bonds, resulting in the atomic displacement of the Fe ion relative to its original state, as shown in Figure 2E. Structural analysis using annular bright-field high-resolution scanning transmission electron microscopy around the BFO surface in Figure 2F further confirms this surface atomic displacement and it could be obviously observed that the Fe atoms move upward (downward) as soon as they are exposed to an acidic (water or alkaline) aqueous solution. This drastic atomic displacement suggests a directional reversal of the polarization of the surface.
Pb(Zr0.2Ti0.8)O3 thin films
For ferroelectric-based heterojunctions, the orientation of the polarization depends on the doping or charge state of the substrate, so the polarization state can be modified via the substrate[52]. For thick layers (> 200 nm), a poor compensation of the depolarization field of Pb(Zr0.2Ti0.8)O3 thin films is reported to form 180° domains where the pyroelectric coefficient decreases strongly[53].
Janus transition metal dichalcogenides
Janus transition metal dichalcogenides, as new polarized materials, have attracted intensive research interest due to their promising applications in energy conversion[54]. These materials have intrinsic polarization caused by structural asymmetry, which can improve the spatial separation between carriers. Intriguingly, in our recent work, we found that both tension and compression strain is able to enlarge the polarity of layered Janus transition metal dichalcogenides, according to the variation of the electrostatic potential difference between the two respective surfaces with the external force [Figure 2G][20]. When they are rolled into nanotubes with a small diameter, the polarization can also be enhanced, as illustrated in Figure 2H[55].
POLARIZATION-DEPENDENT CATALYTIC REACTIONS
As discussed above, catalytic performance is affected by polarization due to the synergistic effects of multiple factors, including light adsorption, charge separation, band alignment, adsorption strength and so on. The impact of polarization should be universal, as has been demonstrated from photo- and electrocatalytic works. In the following sections, we present several typical research works on catalysis and emphasize the role of polarization.
FUTURE CHALLENGES
Even polarization has shown a significant impact on catalytic performance and is regarded as the promising approach to boost activity and efficiency. However, there remain many unsolved problems and challenges, which require urgent and comprehensive investigations in the near future. Several possible research directions are listed and discussed below.
CONCLUSION
In summary, we have reviewed the recent research achievements of polarization-dependent catalytic reactions. It has been found that for polarized catalysts, polarization orientation can adjust the reactivity and selectivity of various catalytic reactions by tuning miscellaneous fundamental properties, such as the electronic and adsorption performance. The effects of polarization on chemical reactivity have been demonstrated for water splitting, wastewater treatments, organic dye degradation, CO2 reduction and redox reductions, implying the promising potential to utilize the polarization to boost/optimize catalytic activity and surface chemistry. Even so, there remain many challenges to utilizing polarization in practical catalytic applications, as summarized/discussed at the end of this review.
DECLARATIONS
Authors' contributions
Literature search, and organization, manuscript drafting: Ju L, Tang X
Manuscript revision: Ju L, Tang X, Kou L
Project supervision: Ju L, Kou L
Availability of data and materials
Not applicable.
Financial support and sponsorship
This work is supported by National Natural Science Foundation of China (Grant No. 11804006) and the Henan Scientific Research Fund for Returned Scholars.
Conflicts of interest
All authors declared that there are no conflicts of interest.
Ethical approval and consent to participate
Not applicable.
Consent for publication
Not applicable.
Copyright
© The Author(s) 2022.
Cite This Article
Ju L, Tang X, Kou L. Polarization boosted catalysis: progress and outlook. Microstructures 2022;2:2022008. http://dx.doi.org/10.20517/microstructures.2021.14