INTRODUCTION
Owing to their excellent optoelectronic properties, including high defect tolerance, long charge diffusion length, and high light absorption coefficient[1], organic-inorganic metal halide perovskites have been recognized as desirable light-harvesting semiconductors for photovoltaic (PV) applications. Since the first report in 2009[2], the recent decade has witnessed a skyrocketing increase in the power conversion efficiency (PCE) of perovskite solar cells (PSCs) from an initial 3.8% to a recently certified 25.7%, which surpasses those of other thin-film PV technologies and is on par with that of crystalline silicon solar cells[3,4]. Despite successful achievements regarding PV performance, the unsatisfactory device lifespan of PSCs remains the major hurdle impeding their large-scale commercialization. The fast performance decay of PSCs under operational conditions is mainly attributed to the vulnerability of metal halide perovskites to various external stimuli, including moisture, polar solvents, heat, light illumination, and electric fields. Hence, tremendous efforts have been dedicated to improving the long-term stability of PSCs through a variety of stabilization strategies, including compositional engineering, interfacial and surface passivation, device structure optimization, and advanced encapsulation techniques. For example, PSCs employing hydrophobic two-dimensional (2D) perovskite capping layers and a butyl rubber edge-sealing encapsulant have successfully passed the industrial lifetime assessment test under damp-heat conditions (IEC 61215:2016), retaining over 95% of the initial PCE after 1000 h at 85 °C and 85% relative humidity (RH)[5]. However, such a lifetime warranty within several thousands of hours is still far less than the commercialization standards of PV technology, suggesting that more innovative approaches are required to further prolong the device lifespan of PSCs towards years.
As a class of porous materials, metal-organic frameworks (MOFs) with tailorable building blocks possess vast structural tunability and versatile chemical functionality. Given the strong coordination between characteristic organic linkers and metal ion nodes, MOFs show excellent chemical resistance to most polar solvents and water molecules and thus can act as mesoporous scaffolds or functional interlayers to significantly improve the robustness of perovskite crystals against external stimuli. For instance, a three-dimensional (3D) oxalate-based Eu-MOF was employed as a scaffold interlayer to facilitate the growth of high-quality perovskite thin films and successfully relax tensile lattice strain via interfacial chemical coordination, which effectively prevented the phase degradation of triple-cation perovskite crystals and thus enabled 96% device performance after 2000 h in ambient air without any encapsulation[6]. Interestingly, a 2D conjugated Zr-MOF with thiol functional terminals was developed as an ion-sequestration buffer layer to inhibit the notorious halide migration and simultaneously capture decomposed lead ions by the in-situ formation of crosslinked disulfide linkages on top of the perovskite layer. In addition to excellent lead sequestration capability, inverted PSCs adopting thiol-functionalized MOF capping layers showed suppressed interlayer ion diffusion and thus substantially improved the operational stability with only an 8% performance drop after 1000 h at 85 °C under maximum power point (MPP) tracking[7].
Furthermore, glassy MOFs, such as zeolitic imidazolate frameworks (ZIFs), can be regarded as effective waterproof matrices to protect wrapped ionic perovskite cores from moisture invasion by forming strong interfacial chemical coordination within composites. In a recent study, we developed a scalable and facile liquid sintering approach to accommodate all-inorganic perovskite nanocrystals into the nanoporous cavities of a MOF matrix, thereby enabling the fabrication of CsPbI3-ZIF glass composites with extremely stable photoluminescence (PL) emissions after 10,000 h of immersion in water[8]. With such unprecedented moisture resistance under harsh storage conditions, these robust perovskite-based composites offer a reliable and innovative solution to tackle the intractable stability issue of metal halide perovskites, which greatly improves the feasibility of the large-scale deployment of perovskite-based optoelectronics on the market. While the incorporation of MOFs can largely promote the stability of PSCs, relatively insulating MOFs at the interfaces or grain boundaries of perovskite thin films can partially hinder effective charge carrier transport channels and cause undesirable non-radiative charge recombination to deteriorate the PV performance of PSCs. In this scenario, MOFs with a modified chemical structure and enhanced interfacial conjugation are expected to improve conductivities and promote the charge transport capability of MOF fragments, with the aim of achieving long-term stable PSCs without compromising PV performance.
While MOFs have exhibited customizable synthesis protocols[9-11], tailorable functionality[12-14], and versatile applications[15,16] in perovskite-based optoelectronics, there is still a lack of an insightful overview revealing the underlying mechanisms behind the successful intermarriage of MOFs and perovskites and discussing the significant challenges in this burgeoning field. In this perspective, we provide a fundamental understanding of the interfacial coordination chemistry in MOF-perovskite systems and then highlight the critical issue of insulating MOFs in PSCs. Promising approaches are proposed to modify the inferior charge mobility of MOFs by rational design of the chemical structure of intrinsically conductive MOFs as well as enhancing their interfacial coordination with perovskite crystals, thereby suppressing non-radiative charge recombination to minimize PV performance losses at the interfaces. Finally, useful guidelines are offered to further optimize the performance and long-term stability of MOF-tailored PSCs, thus providing inspiring insight into the future research opportunities of emerging MOF-incorporated perovskite-based optoelectronics.
METAL ORGANIC FRAMEWORK-TAILORED PEROVSKITE PHOTOVOLTAICS
Derived from the concept of porous coordination polymers developed in the 1990s[17,18], MOFs have emerged as a new family of versatile porous materials with open crystalline frameworks and permanent inner porosity and such innovative materials have been recognized as one of the most successful examples in the interdisciplinary aspects of molecular and solid-state chemistry[19,20]. In the typical reticular synthesis of MOFs, judiciously selected organic molecules not only serve as structure-directing agents but also as essential building blocks interacting with metal-containing joints (metal ions or clusters) via strong coordination bonds, which encompass a robust void space for MOFs with exceptional porosity and ultrahigh specific surface area. Given the numerous possible combinations of metal-containing secondary building units (SBUs) and organic linkers, MOFs have shown vast structural and compositional variabilities, as well as tunable internal surface chemistry functionalities, thus making extraordinary contributions in gas separation, electronics, and catalytic applications in the last three decades[21].
Among the thousands of reported MOFs, the most studied MOF-5 possesses a symmetric 3D structure composed of Zn4O metal nodes and 1,4-benzenedicarboxylate (BDC) struts, enabling higher apparent surface area and pore volume than those of porous crystalline zeolites[22]. As another representative example, HKUST-1 is a face-centered cubic MOF based on benzene-1,3,5-tricarboxylic acid (BTC) ligands to coordinate copper ions to construct an intersecting 3D network containing large square-shaped pores of 9 by 9 Å for excellent molecular adsorption and facile post-synthetic modification[23]. With a sodalite topology similar to inorganic zeolites, ZIF-8 exhibited good thermal stability and chemical resistance, owing to its rigid tetrahedral framework consisting of zinc nodes and 2-methylimidazolate organic linkers[24-26]. Notably, the metal-organic coordination networks of ZIFs can be retained by forming a molten liquid phase under high-temperature (> 700 K) calcination in an inert atmosphere, before yielding glassy MOFs upon fast quenching, though in a long-range disordered array[27-29]. In our previous studies, these fascinating glassy MOFs with permanently accessible porosities have demonstrated intriguing properties, including excellent mechanical robustness, chemical compatibility, and tailorable functionality, thereby showing great promise for a variety of optoelectronic applications[30,31]. Furthermore, the availability of multivariate MOFs, in which multiple organic linkers are incorporated within a single framework, offers extended structural flexibility and chemical modification for more extensive applications[32].
Metal halide perovskites refer to a class of compounds with a general chemical formula of ABX3, in which A is a monovalent cation, like methylammonium (MA+), formamidinium (FA+) or Cs+, and B is a divalent metal cation, such as Pb2+ or Sn2+, while X is normally a halide anion (e.g., I-, Br- or Cl-). The desirable cubic crystal structure of perovskites is constructed by a 3D network of corner-sharing BX6 octahedra with the A cation filling the cavities between eight octahedral units. The structural stability of perovskites can be estimated by the Goldschmidt tolerance factor (t) expressed as

, where RA, RB, and RX correspond to the effective ionic radii of A, B, and X, respectively. Empirically, the ideal symmetric 3D crystal structure of perovskites, also known as photoactive black phases, can only be maintained when t is in the range of 0.8-1.0[33]. Compared to the archetypal MAPbI3 with a suitable A-cation size (RMA is 217 pm), yielding a moderate t of 0.91 for a stable cubic phase, the black phases of FAPbI3 and CsPbI3 are not thermodynamically stable at room temperature. This is because the relatively larger FA cation (RFA = 253 pm,t = 0.99) or smaller Cs cation (RCs = 188 pm, t = 0.81) in the PbI6 octahedral cavities can induce tensile or compressive crystal lattice strain, which gives rise to undesirable phase transition to their non-perovskite δ phases[34]. Further enlarging the size of the A cation will cause the collapse of the 3D cornering-sharing PbI6 octahedral architecture into low-dimensional configurations such as 2D-layered perovskites, one-dimensional (1D)-chained perovskites, and zero-dimensional isolated perovskites. Although the use of bulky and hydrophobic organic A cations may improve the resistance of these low-dimensional perovskites against moisture or ion migration, their low anisotropic charge carrier mobility and random phase distribution remain unresolved problems for their PV applications.
Although most surface trap states in perovskites are shallow and do not significantly deteriorate their optoelectronic properties[35], point defects (e.g., halide vacancies) with low formation energies can assist the diffusion of external moisture and internal ion migration in accelerating the degradation of the perovskite layer under the operational conditions of PV cells (heat and light in ambient air). While the inferior phase and chemical stability of PSCs under various stimuli impede their commercialization, porous materials can serve as rigid and protective scaffolds or matrixes to accommodate perovskite nanocrystals in their tunable nanoscale cavities and thus prevent PSCs from fast PV performance decay under operational conditions. Considering their high porosity and rich surface chemistry, MOFs can easily build up strong chemical connections with perovskite compounds by forming Lewis acid-base adducts. Specifically, the metal ion nodes of MOFs can accept free lone pairs of electrons from the halide anions of perovskites, while the dangling organic linkers with a high basicity in MOFs tend to interact with the undercoordinated Pb2+ at the surface of the perovskite crystals[16]. In the case of a MOF-perovskite coordination system, the presence of a porous MOF matrix can offer extended void space to relax the residual lattice strain of perovskite crystals for preserving their desirable black phases (e.g., α-FAPbI3 and α-CsPbI3). In contrast, chemically coordinative MOFs can eliminate the point defects at the surface of perovskite nanocrystals to suppress non-radiative charge recombination channels and simultaneously improve the long-term stability of perovskites by blocking moisture invasion and halide migration pathways. Given their capabilities for defect passivation, phase stabilization, hydrophobicity, and chemical resistance, versatile MOFs have been incorporated at the interfaces or in bulk perovskite layers to modify the PV performance and device lifetime of PSCs. The recent key achievements for MOF-tailored PSCs are summarized in Table 1.
Table 1
Summary of MOF-tailored PSCs with key parameters
| | | | | | | | |
| --- | --- | --- | --- | --- | --- | --- | --- |
| Type of MOFs | Location | PCE (%) | Voc (V) | Jsc (mA cm-2) | FF | Stability | Ref. |
| ZIF-8 | ETM interlayer | 16.99 | 1.02 | 22.82 | 0.73 | N/A | [36] |
| Eu-MOF | ETM interlayer | 22.16 | 1.14 | 23.71 | 0.82 | 96% efficiency after 2000 h at RH 30% | [6] |
| ZIF-8 | Scaffold ETM layer | 16.9 | 1.23 | 21.8 | 0.59 | 80% efficiency after 6 days at RH 20% | [37] |
| ZIF-8 | MOF-derived ETM | 18.1 | 1.11 | 22.1 | 0.74 | 77% efficiency after 30 days at RH 40% | [38] |
| MIL-125-Ti | ETM | 18.94 | 1.08 | 23.18 | 0.76 | 87% efficiency after 24 h at RH 60% | [39] |
| 2D Zr-MOF | Electrode interlayer | 22.02 | 1.20 | 22.58 | 0.81 | 92% efficiency after 1000 h under MPP tracking in N2 | [7] |
| Pb-MOF | HTM interlayer | 13.67 | 1.02 | 20.62 | 0.65 | 54% efficiency after 9 days at RH 30% | [40] |
| In2 | HTM dopant | 15.8 | 1.01 | 21.03 | 0.74 | 78% efficiency after 600 h at RH 40%-45% | [41] |
| FJU-17 | HTM dopant | 20.34 | 1.05 | 25.09 | 0.77 | 90% efficiency after 1000 h at RH 50%-70% | [42] |
| Cu-BTC | HTM dopant | 21.44 | 1.11 | 23.90 | 0.80 | 90% efficiency after 30 days in ambient condition | [43] |
| MOF-525 | One-step precursor | 12.0 | 0.93 | 23.04 | 0.60 | N/A | [44] |
| UiO-66 | One-step precursor | 18.01 | 1.07 | 21.85 | 0.77 | 80% efficiency after 12 days at RH 60% | [45] |
| MOF-808 | One-step precursor | 17.81 | 1.06 | 21.01 | 0.80 | 70% efficiency after 12 days at RH 60% | [45] |
| In-BTC | One-step precursor | 20.87 | 1.12 | 23.55 | 0.79 | 80% efficiency after 12 days at RH 65% | [46] |
| In2 | Two-step PbI2 precursor | 17.15 | 1.04 | 23.18 | 0.71 | 90% efficiency after 600 h at RH 40%-45% | [47] |
Molecular-organic framework interlayers
With a soft, porous architecture, MOFs can serve as mesoporous scaffold layers to induce the growth of perovskite nanocrystals within their cavities during the solution process of perovskite thin films [Figure 1A]. Similar to mesoporous Al2O3 or TiO2 scaffolds in early studies[48,49], the high surface area of MOFs enables dramatically increased interfacial contact between perovskite grains and the electron transport material (ETM) to facilitate electron extraction and mitigate defect-assisted interfacial charge recombination, therefore improving the resultant PV performance. For instance, inserting a thin ZIF-9 interlayer between compact TiO2 and perovskite layers can provide additional charge transport channels and thus improve the open-circuit voltage (Voc) of PSCs from 1.12 to 1.23 V[37]. In addition to reduced interfacial voltage losses, the presence of uniformly-distributed MOF crystals on the substrate can regulate the crystallization kinetics and enlarge the grain sizes of perovskite thin films towards the micrometer scale due to the chemical coordination between the organic ligands of MOFs and perovskite precursors.
Figure 1. (A) Schematic illustrations of MOF interlayers and a MOF-perovskite heterostructure. (B) Schematic illustration of interfacial interaction between perovskite and ZIF-8 by methyl groups. Reprinted with permission[36]. Copyright 2018, Royal Society of Chemistry. (C) Device structure of a flexible perovskite solar cell incorporating Ti-MOF as an ETM. Reprinted with permission[39]. Copyright 2018, American Chemical Society. (D) UV-visible light absorption and PL emission spectra of Eu-MOF and perovskite film. Reprinted with permission[6]. Copyright 2021, Wiley-VCH. (E) Stability testing of HTMs with POM-Cu-BTC dopants and their illustrated stabilization mechanisms. Reprinted with permission[43]. Copyright 2019, Wiley-VCH. (F) Device structure and long-term operational stability of PSCs with thiol-functionalized 2D MOF layer. Reprinted with permission[7]. Copyright 2020, Springer Nature.
As illustrated in Figure 1B, the methyl terminal groups of ZIF-8 can form strong hydrogen bonds with halide anions in the precursor solution, which may induce the preferential nucleation at MOF sites and facilitate the growth of polycrystalline perovskite thin films with aligned facet orientations[36]. Notably, the strong chemical interaction between the MOF scaffold and perovskite layers can also enhance the cohesion of perovskite thin films onto their supporting substrates, which may be applied to the fabrication of mechanically-robust flexible PSCs. In this case, Ti-MOFs (MIL-125), composed of titanium oxo-clusters and BDC linkers, were developed as alternative ETMs to construct flexible PSCs on polyethylene naphthalate substrates[39]. The good bending-cycle durability of Ti-MOF-derived PSCs suggests the significant potential of MOF interlayer-bound perovskite thin films on highly flexible plastic substrates for the large-scale roll-to-roll printing of wearable optoelectronics. While conventional TiO2 ETMs with rich surface oxygen vacancies can induce the interfacial photocatalytic decomposition of perovskite thin films via a superoxide-mediated pathway under ultraviolet (UV) light[50], defect-less Ti-MOFs possess a low photocatalytic activity under UV light and therefore can function as UV filters to protect PSCs from UV corrosion, as illustrated in Figure 1C.
Furthermore, selective metal clusters, like Eu, In, and Zr, can impart MOFs with a downshifting capability[6,41,45], which emits visible PL under UV excitation by converting high-energy UV photons to low-energy photons via internal energy transfer[51]. In this context, the use of downshifting MOF interlayers can improve the light harvesting of perovskite layers and simultaneously mitigate the undesirable perovskite decomposition triggered by penetrating UV light [Figure 1D]. Compared to conventional TiO2 mesoporous scaffold layers with a random pore structure, Ti-MOFs offer a more rigid and well-ordered scaffold architecture with controllable pore aperture and size that can induce the homogenous nucleation and growth of high-quality perovskite crystals. A subsequent mild thermal post-treatment can facilitate the chemical coordination between a MOF scaffold and crystalline perovskite layers, which may effectively eliminate shallow trap states (e.g., undercoordinated Pb2+ sites) and facilitate interfacial charge extraction to minimize non-radiative PV performance losses. Furthermore, the selective organic linkers of MOFs provide vast opportunities to tune their electronic properties (e.g., charge mobility and energy band positions) to form more optimized energy band alignment with perovskite layers and further facilitate charge transport at interfaces for improving PV performance[52]. Hence, delicately deploying a MOF scaffold layer underneath the perovskite thin film can facilitate charge transport, regulate perovskite crystallization, enhance layer cohesion, and improve the UV stability of PSCs.
In contrast, MOFs can be post-deposited on top of crystalline perovskite thin films by dispersing in non-polar solvents that are immiscible with perovskites. Given their inferior conductivity, MOFs can be doped into the charge transport layer on top of perovskite thin films to form a functional capping layer in PSCs. For example, incorporating hydrophobic MOFs into hole-transport materials (HTM) with hygroscopic dopants (e.g., lithium salt) can significantly improve the moisture resistance of PSCs. It was found that an In-MOF featuring a phenylethyl-based linker could form a closed-packed π-π interactive network to cover the moisture-sensitive HTM and perovskite layer, thereby preventing PSCs from rapid performance decline in a humid atmosphere[41]. In addition, such a MOF coordination capping network can effectively prevent iodide migration and metallic electrode diffusion across different layers, which further improves the longevity of PSCs under thermal or light stress. Another innovative design for stabilizing HTMs by MOF additives is to accommodate hygroscopic lithium ions into the porous structure of MOF crystals. Featuring electron-withdrawing metal clusters, like polyoxometalates (POMs), MOF additives can also accelerate the oxidation of Spiro-OMeTAD and bind mobile lithium ions at mesoporous cavities to impede moisture absorption at a HTM surface, as illustrated in Figure 1E[43]. In this scenario, the activation step of Spiro-OMeTAD can even be accomplished in an inert atmosphere, which eliminates the necessity of the device aging process in air and allows the use of Spiro-OMeTAD for oxygen-sensitive tin-based/mixed lead-tin perovskites.
Notably, the selection of conductive In, Cu, or Ag clusters can improve the conductivity of these MOF interlayers to some extent, while conjugated or short-chain organic linkers offer higher charge carrier mobility with reduced quantum well thickness for electronically benign MOFs. In a similar manner, a thiol-functionalized 2D conjugated Zr-MOF was developed as a lead-trapping interlayer between perovskite layer and metal electrode by forming water-insoluble lead-MOF complexes [Figure 1F][7]. The improved moisture- and oxygen resistance of PSCs can be attributed to the dense thiol and crosslinked disulfide linkages by the self-coordination of MOFs. Hence, one can notice that incorporating MOFs on top of perovskite thin films can provide a tensile chemical coordinative network to repel external moisture invasion and inhibit interlayer ion diffusion and heavy metal leakage, which ensure good device operational stability and simultaneously tackle the lead contamination issue of PSCs.
Molecular-organic frameworks at grain boundaries
In addition to MOF interlayers, MOFs can be embedded at the grain boundaries of bulk perovskite thin films to form MOF-perovskite heterostructures, offering defect passivation, lattice strain relaxation, and phase-stabilization to optimize the performance and stability of PSCs. Owing to their good dispersion in polar solvents [e.g., N,N-dimethylformamide (DMF) and dimethyl sulfoxide (DMSO)] and non-polar solvents (e.g., chlorobenzene, toluene and isopropanol), MOFs can be introduced into the precursor solutions or anti-solvents during the one-step or sequential spin-coating processes of perovskite thin films, as illustrated in Figure 2A. In the first report of MOF-incorporated PSCs, Zr-based porphyrin MOF (MOF-525) nanocrystals with a size of ~140 nm were introduced into the perovskite precursor solution, leading to improved surface coverage and crystallinity of perovskite thin films with an optimal concentration of ~1 mg mL-1[44]. Encouragingly, the resultant MOF-based PSCs delivered a high short-circuit current density (Jsc) of 23.04 mA cm-2, suggesting that relatively insulating MOF crystals at the grain boundaries of polycrystalline perovskite thin films would not completely eliminate charge carrier extraction pathways for electron and hole separation in bulk thin films.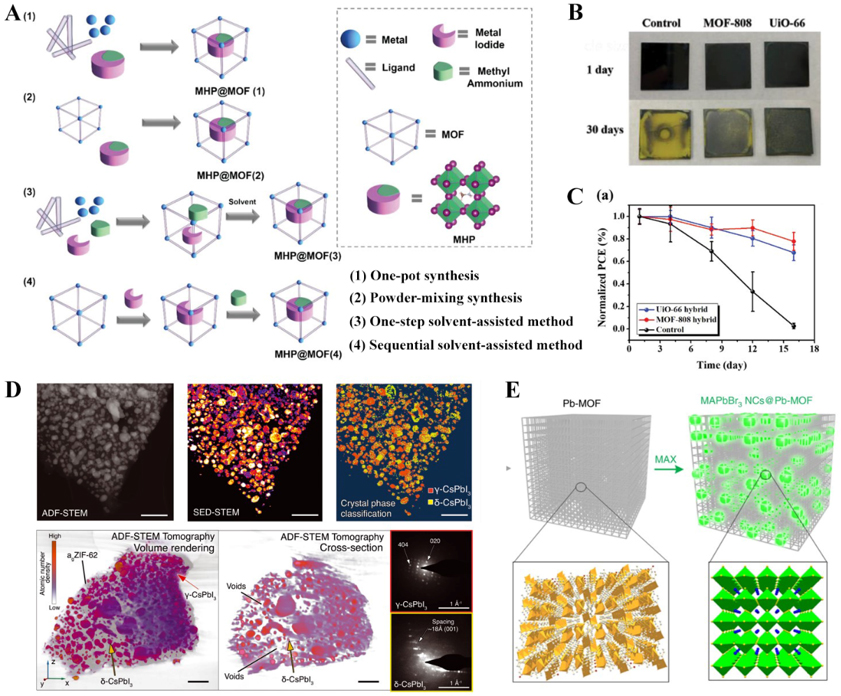 Figure 2. (A) Schematic illustrations of fabrication methods of MOF-perovskite heterostructures. Reprinted with permission[9]. Copyright 2020, Wiley-VCH. (B) Digital images and (C) PV performance of perovskite and MOF-perovskite thin films before and after storage in ambient conditions with RH 60%. Reprinted with permission[45]. Copyright 2019, Wiley-VCH. (D) STEM images of CsPbI3-ZIF composite and its tomographic reconstruction. Reprinted with permission[8]. Copyright 2021, American Association for the Advancement of Science. (E) Schematic illustration of the conversion process from Pb-MOF to perovskite. Reprinted under the terms of the CC-BY Creative Commons Attribution 4.0 International license[60]. Copyright 2017. The Authors, Springer Nature.
Considering the dangling organic ligands at the surfaces of MOF crystals and the rich trap states at the grain boundaries of perovskite thin films, there is a significant possibility of establishing interfacial chemical coordination bonds between MOFs and perovskite grains. In addition to eliminating the surface defects of perovskite grains, hydrophobic MOFs within the cavities between perovskite domains can effectively block the moisture invasion pathway from the external atmosphere, offering a "grain-locking" effect to protect PSCs against external stimuli [Figure 2B and C][45]. While the one-pot fabrication protocol enables a more uniform distribution of MOFs at grain boundaries, the fast crystallization process of perovskite thin films only offers a short time window for the establishment of interfacial coordination between MOFs and perovskites, which may cause component segregation or even the repulsion of MOFs at the upper surface of the perovskite layer. To circumvent this problem, intermediate phases can be introduced into precursor solutions to help delay the nucleation stage during the spin-coating process and allow sufficient time for the formation of MOF-perovskite heterostructures in a gradient growth manner under subsequent thermal annealing[53,54].
With a flexible ligand structure and framework bonding topology, elastic MOFs with vast void space may act as desirable media to relax the residual strain induced by the mismatched thermal expansion of perovskite thin films and substrates during the thermal annealing process, which improves the intrinsic stability of perovskite thin films[55]. In the case of FAPbI3 (formamidinium, FA) and CsPbI3 with metastable black phases at room temperature, their tensile or compressive crystal lattice strains can be alleviated by the interfacial coordination bonds of MOF-perovskite heterostructures[6,56,57], as evidenced by our previous work on CsPbI3-MOF glass composites [Figure 2D][8]. In addition, the presence of chemical coordination at the interface may also provide an additional energy barrier impeding the undesirable phase transition of perovskite thin films from the α to δ phase. According to previous studies, the defective grain boundaries of polycrystalline perovskite thin films represent the major ion migration channels that may accelerate phase segregation and perovskite decomposition[58,59]. In this context, MOF crystals at grain boundaries may act as strong ionic barriers to capture the mobile ions and then suppress undesirable halide migration to improve the stability of perovskite layers under photoexcitation.
In sequential spin-coating processes, MOFs can be blended into the first-step precursor solution (e.g., PbI2 in DMF/DMSO) to optimize the microstructural morphology of the PbI2 scaffold layer and template the crystallization of perovskite thin films. Notably, the introduced MOF crystals can provide abundant nanoporous channels to facilitate the diffusion of organic halide precursors (e.g., FAI and MAI) and thus ensure a complete solid-state chemical transition reaction from the amorphous PbI2 scaffold layer to the polycrystalline perovskite thin film. As illustrated in Figure 2E, Pb-based MOFs with a 2D polymeric structure were employed as the sole lead source for the synthesis of perovskite nanocrystals upon organic halide salt post-treatment[60]. Inspired by this in-situ conversion approach, Pb-MOFs may can be developed as sacrificial porous templates for the growth of high-quality perovskite thin films, where the organic linkers of MOFs can be substituted by halide anions. Such MOF-perovskite heterostructures or MOF-derived perovskite thin films fabricated in an in-situ chemical conversion manner are expected to offer an innovative approach to tune the microstructures of perovskite thin films towards highly aligned crystal orientations and minimized interfacial defects, which facilitate the construction of environmentally robust MOF-tailored PSCs without compromising the PV performance. These sequential lead-containing scaffold methods can allow for strong interactions between MOFs and perovskite precursors before crystallization, but it is difficult to ensure complete conversion to perovskite materials without residual lead precursor impurities, which requires more innovative approaches to accelerate the chemical reaction kinetics between the lead precursor and organic halides during the second solution-soaking step.
CHARGE CARRIER MOBILITY OF MOLECULAR-ORGANIC FRAMEWORKS
Chemical structures of molecular-organic frameworks
The inferior conductivity of MOFs can be attributed to their inherent porous configurations and relatively ionic bonds between metal nodes and commonly used carboxylate linkers. The former precludes close intermolecular contacts for electron hopping, while the latter leads to poor orbital overlap and low band dispersion (i.e., localized energy levels of the metal and ligand). Hence, chemical and structural modification approaches, including through-bond pathways [Figure 3A], extended conjugations [Figure 3B], and through-space pathways [Figure 3C], have been developed to improve the charge carrier mobility of MOFs and facilitate their electronic applications[52]. In terms of the through-bond pathways, soft and electropositive organic linkers (e.g., sulfur or nitrogen-based ligands)[61] or mixed-valence metal nodes (e.g., Fe2+/3+)[62] can strengthen the metal-ligand bonds to improve charge delocalization and ensure good orbital overlap within the continuous SBUs of 1D MOFs, thus creating a more efficient pathway for charge carrier transport. Alternatively, with the presence of chelating functional groups, like ortho-diols, diamines and dithiols, in organic linkers, the extended π-d conjugation encompassing both organic and inorganic motifs allows for efficient delocalization of charge carriers within the ab plane, therefore contributing to 2D MOFs with significantly improved conductivities[63,64]. Derived from organic semiconductors, the through-space pathways rely on the π-π interaction between the organic linkers of neighboring SBUs along the c direction, which overcomes the spatial charge transport resistance of MOFs with a 3D crystal configuration. For instance, tetrathiafulvalene and its functional derivatives, which are known as electron-donor organosulfur molecules, can form interlayer π-π stacking and close intramolecular contacts, thus imparting MOFs with high out-of-plane charge carrier mobility[65,66]. These successful examples in the novel chemical and structural design of conductive MOFs can be regarded as useful guidelines for the optimization of the PV performance of MOF-tailored PSCs.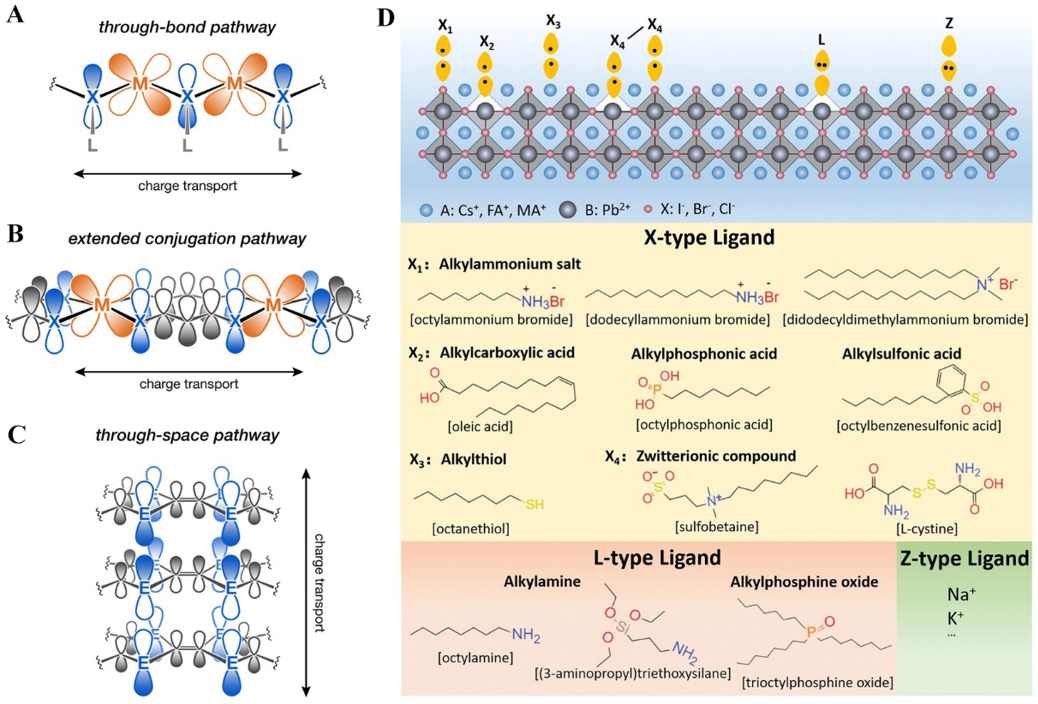 Figure 3. Schematic illustrations of chemical and structural modification approaches to improve the intrinsic conductivity of MOFs: (A) through-bond pathway; (B) extended conjugation pathway; (C) through-space pathway. Reprinted with permission[52]. Copyright 2020, American Chemical Society. (D) Schematic illustration of coordination ligands that can bind to the surface of perovskite crystal structure in terms of X, L, and Z types. Reprinted with permission[69] Copyright 2021, Wiley-VCH.
Interfacial coordination between molecular-organic frameworks and perovskites
In addition to the intrinsic conductivity of MOFs, strong interfacial conjugation can facilitate the charge carrier transport within MOF-perovskite heterostructures. In our previous study of CsPbI3-ZIF-62 glass composites, the interfacial bonding of Pb-N and Pb-I was identified by means of synchrotron terahertz and far-infrared vibrational spectroscopy and magic-angle-spinning nuclear magnetic resonance[8]. It was found that these coordination bonds between organic linkers and undercoordinated Pb2+ could eliminate interfacial trap states and enhance electronic conjugation between the MOF matrix and perovskite nanocrystals, suggesting efficient charge transport at the interface.
According to the hard and soft acids and bases theory, Lewis acid ligands can accept electrons to passivate negatively charged defects, while Lewis base ligands can donate a lone pair of electrons to neutralize positively charged trap states. Hence, organic linkers of MOFs can be deliberately designed with a Lewis base O, S, or N electron donor to form strong Lewis acid-base adducts with undercoordinated Pb2+, which represent effective delocalized electronic bridges between MOFs and perovskites, either in the form of bulky micrograins or cavity-confined nanocrystals, as shown by the selected X-, L- and Z-type surface ligands illustrated in Figure 3D[35]. In this context, these coordinative organic linkers of MOFs not only mitigate the surface defects of perovskite nanocrystals in their nanocavities but also offer adhesive terminals to facilitate the interaction between MOFs and bulky perovskite grains. Moreover, bifunctional zwitterionic ligands with multiple functional group terminals, like L-phenylalanine and 2-aminoethanethiol, may offer stronger interfacial interaction than those formed by loosely bound carboxyl ligands[67-69]. Strong chelating ligands, such as phosphonate and sulfonate groups, are also suggested to strengthen the chemical coordination between MOFs and perovskite crystals. Furthermore, introducing conductive polymers/molecules with a Lewis acidic nature, like fullerene and its derivatives (e.g., C60 and phenyl-C61-butyric acid methyl ester), into the porous channels of MOFs may improve the charge carrier mobility of MOFs via the guest molecule-framework interaction in an electronic hopping mode and simultaneously ensure the close electronic contact by forming MOF-molecule-perovskite interactive networks.
SUMMARY AND OUTLOOK
In conclusion, the fabrication of MOF interlayers and MOF-perovskite heterostructures have shown significant promise in improving the long-term stability of PSCs against various external stimuli. However, the incorporation of relatively insulating MOFs may induce undesirable charge carrier recombination and deteriorate the PV performance of PSCs. In addition to the above-mentioned approaches to improve the intrinsic conductivity of MOFs and the interfacial electronic transport between MOFs and perovskites, we further outline promising research directions in the aspects of MOF-tailored PSCs:
(1) Electronic properties of MOFs: The incorporation of different organic linkers or metal nodes affect the electronic properties of MOFs, such as their energy band structure and dispersion. In principle, MOFs are expected to form type II energy band alignment with perovskites to extract majority carriers and block minority carriers at their interfaces, while n-type and p-type MOFs can be deliberately designed to accelerate the electron and hole transport at ETM and HTM interfaces, respectively. In this context, more research efforts are suggested for the compositional engineering of MOFs (e.g., multifunctional groups, mixed ligands and bimetallic nodes) to optimize their electronic properties and thus promote the cascade charge carrier dynamics from perovskites to MOFs with minimized non-radiative recombination losses. With mature molecular models and simulation methods[70], density functional theory calculations may offer quantitative information on predicting the electronic structures of MOFs with diverse structures and compositions, thus accelerating the screen of promising candidates with desirable electronic properties and functionality for fabricating more efficient MOF-tailored PSCs in real experimental conditions.
(2) Microstructures of MOFs: Besides their relatively higher charge mobility via in-plane π-d conjugation, 2D MOFs show a more compatible microstructure to coordinate with perovskite grains. Specifically, 2D MOFs with a sheet-like morphology are more inclined to form compact and planar coordination networks that can fully cover the underneath layers to mitigate heterogeneous electronic states and suppress interlayer ion diffusion, as demonstrated in the case of a thiol-functionalized 2D conjugated MOF[7]. For 2D MOF-perovskite heterostructures, well-ordered 2D MOF arrays can be used as template nucleation sites to induce the preferred growth of perovskite crystals with aligned facet orientations, which would facilitate vertical charge separation in the bulk polycrystalline perovskite thin films, especially for low-dimensional perovskite materials with low out-of-plane charge mobility. The employment of in-situ time-dependent X-ray diffraction characterizations may help verify the nucleation and growth mechanisms of such morphology-controllable MOF-perovskite heterostructures. Furthermore, the pore size and topology of MOF additives can be further optimized to reduce the colloidal size of iodoplumbate clusters to perovskite precursor solutions, thus effectively decreasing the nucleation rate and offering an extended time window to enable the slow growth of near-single-crystal perovskite micrometer grains with a low defect density.
(3) Functionalized MOFs: In our previous study on MOF-perovskite composites, the porous MOF matrix made significant contributions to stabilizing the photoactive phase of CsPbI3 by relaxing its residual compressive crystal lattice strain, as well as the formed interfacial chemical bonding (e.g., Pb-N and Zn-I)[8]. Inspired by this key finding, more research opportunities may lie in the exploration of more electronically-benign MOFs (e.g., electropositive organic linkers and conjugated frameworks) that can improve the intrinsic phase stability of FAPbI3 and CsPbI3 without scarifying the charge mobility of MOF-perovskite heterostructures. Furthermore, low-temperature processable MOFs are more preferred for the fabrication of organic-inorganic hybrid perovskite thin films, as their organic A cations (e.g., MA and FA) are highly volatile upon thermal annealing over 150 °C. In addition, an in-depth mechanism investigation of the interfacial lattice strain relaxation and chemical coordination in perovskite-MOF composites may inspire more rational design for the development of multifunctional MOFs for phase-stable and efficient FA-/Cs-based PSCs.
Considering the vast library of organic ligands and flexible framework bonding topologies of MOFs, there is still significant search space to further explore the unique functionalities of MOFs in PSCs. Recent years have witnessed the rapid progress on MOF-tailored PSCs, yet there are still some unresolved problems in this promising research field. With a fundamental understanding of chemical structure-property relationships and interfacial coordination, multifunctional and strong-coordination MOFs deserve to be further explored for the development of next-generation stable and efficient perovskite-based optoelectronics.
DECLARATIONS
Authors' contributions
Conceptual design and manuscript draft: Chen P
Manuscript Revision and Project supervision: Wang L, Hou JW
Availability of data and materials
Not applicable.
Financial support and sponsorship
This work was funded by Australian Research Council (ARC) Discovery Projects (DP200101900), Laureate Fellowship (FL190100139), and Future Fellowship (FT210100589). P.C. gratefully acknowledge the financial support from Australian Centre for Advanced Photovoltaics (ACAP) Fellowship and Australian Renewable Energy Agency (ARENA). The authors acknowledge the support from Centre for Microscopy and Microanalysis (CMM) and Australian National Fabrication Facility (ANFF), The University of Queensland.
Conflicts of interest
All authors declared that there are no conflicts of interest.
Ethical approval and consent to participate
Not applicable.
Consent for publication
Not applicable.
Copyright
© The Author(s) 2022.