1Herbert Gleiter Institute of Nanoscience, School of Materials Science and Engineering, Nanjing University of Science and Technology, Nanjing 210094, Jiangsu, China.
2School of Physical Sciences, Great Bay University, Dongguan 523000, Guangdong, China.
3Nanjing Huaxing Pressure Vessel Manufacture Co., Nanjing 210000, Jiangsu, China.
4Beijing National Laboratory for Condensed Matter Physics, Institute of Physics, Chinese Academy of Sciences, Beijing 100190, China.
5Spallation Neutron Source Science Center, Dongguan 523803, Guangdong, China.
6Songshan Lake Materials Laboratory, Dongguan 523808, Guangdong, China.
7Department of Physics, City University of Hong Kong, 83 Tat Chee Avenue, Kowloon, Hong Kong, China.
8City University of Hong Kong (Dongguan), Dongguan 523000, Guangdong, China.
9Center for Neutron Scattering, City University of Hong Kong Shenzhen Research Institute, Shenzhen 518057, Guangdong, China.
#Authors contributed equally.
Correspondence to: Prof. Zhenduo Wu, City University of Hong Kong (Dongguan), Dongguan 523000, Guangdong, China. E-mail: zd.wu@cityu.edu.cn ; Prof. Si Lan, Herbert Gleiter Institute of Nanoscience, School of Materials Science and Engineering, Nanjing University of Science and Technology, Nanjing 210094, Jiangsu, China. E-mail: lansi@njust.edu.cn
Abstract
A series of [(FeNiCo)0.85Cr0.15]100-xBx (x = 12, 15, 17) high-entropy alloys with network-like microstructures (N-HEAs) and a wavelength of 3-5 μm was prepared using the fluxing method. The novel N-HEAs exhibited higher strength and ductility compared with samples obtained by suction casting. Neutron diffraction and scanning electron microscopy measurements showed that the network-like structure contained soft face-centered cubic (FCC) and hard tetragonal Cr2B-type sub-networks. The network-like structure was formed during the solidification of the molten alloy from a deeply undercooled state, achieved by removing impurities and most metallic oxides through B2O3 fluxing. The mechanical properties could be tuned by modifying the composition to change the volume fractions of the different sub-networks. When x decreased from 17 to 12, the compressive yield strength decreased from 1.6 to 1.1 GPa, while the compressive strain increased from ~20% to ~70%. The N-HEA samples with x = 12 and 15 also exhibited a good tensile ductility of 19% and 14%, respectively. In situ synchrotron X-ray diffraction results revealed an inhomogeneous deformation behavior, i.e., the soft FCC phase yielded prior to the hard Cr2B-type phase, which bore more stress in the initial stage of the plastic deformation. In the later stage of the plastic deformation, the ductility of the sample was provided by the FCC phase, together with some contributions from the Cr2B-type phase.
Keywords
Network-structured high-entropy alloys, neutron and X-ray diffraction, mechanical properties, fluxing method
INTRODUCTION
High-entropy alloys (HEAs) or multi-principal-element alloys are a new class of structural materials that have attracted widespread attention since their first synthesis in 2004[1-3]. The development of HEAs provided a new strategy for alloy design, leading to the discovery of new alloys with superior properties in a wide range of loading conditions[4,5]. By tuning the composition, various researchers have developed HEAs with exceptional ductility and fracture toughness at temperatures down to 20 K[6-8], as well as strong and ductile mechanical behavior from cryogenic temperatures to 1073 K[9], and excellent soft magnetic properties with high strength and ductility[10]. Moreover, the nanoscale structural design has been applied to further increase the strength and ductility of HEAs by introducing nanoscale precipitation[11], compositional modulation[12], or disordered grain boundaries[13]. However, these heterogeneous nanostructures may be unstable at elevated temperatures or difficult to fabricate in bulk sizes[14,15], which limits their industrial application. On the other hand, at a larger (i.e., sub-micron to micron) scale, the structure of the HEAs could also significantly influence their mechanical properties, as in the case of lamellar structures[16] or equiaxed grains[17]. These structures could be controlled by conventional thermal/mechanical treatments, i.e., cold/hot rolling or annealing[18-20]. Thus, developing new structures at the sub-micron to micron scale by engineering-friendly methods could be a promising way to accelerate the application of HEAs.
The fluxing technique is a widely used heat treatment method in metallurgy, in which the impurity and metallic oxide contents of the molten alloy are reduced by immersing in molten oxides[21] or salts[22] to improve its properties. This approach has been successfully applied to achieve a large undercooling of different alloy melts, in order to alter the solidification kinetics[23,24] or even form bulk metallic glasses[21]. Novel microstructures could be formed when the melt is solidified at a deeply undercooled state by fluxing, which is difficult to reach with other techniques. For example, using the B2O3 fluxing treatment, Fe-C and Fe-B-C alloys can be cast into an interconnected network morphology at the submicron to micron scale, showing higher strength and plasticity than white cast iron with a typical eutectic structure[25].
In this work, the B2O3 fluxing treatment was applied to fabricate high-entropy alloys with novel network-like microstructures (N-HEAs)[26,27]. A high degree of undercooling (385 K) was achieved for [(FeNiCo)0.85Cr0.15]100-xBx (x = 12, 15, 17) N-HEAs with a diameter of ~13 mm. The morphology of the microstructures was inspected by scanning electron microscopy (SEM) and transmission electron microscopy (TEM), and the phase composition was studied by energy-dispersive spectroscopy (EDS) and neutron diffraction. The deformation mechanism was further investigated using in situ synchrotron X-ray diffraction during tension test. We also discuss the origin of the large undercooling, the relationship of the mechanical properties with the microstructures, as well as phase fractions, and the deformation mechanism.
MATERIALS AND METHODS
Sample preparation and fluxing treatment
[(FeNiCo)0.85Cr0.15]100-xBx (x = 12, 15, 17) ingots were prepared by vacuum induction heating using pure elements (purity > 99.95 wt.%). Then, the alloy ingots were remelted at least five times under a high-purity Ti-gettered argon atmosphere in a water-cooled copper crucible; the ingots were flipped each time to improve the chemical homogeneity. After that, the alloy ingots were transferred into molten B2O3 and underwent fluxing treatment for 2 h at 1,473 K in a dry-cleaned fused silica tube with inner and outer diameters of 16 and 19 mm, respectively. A schematic diagram of the fluxing experiment setup is shown in Figure 1A. After the fluxing treatment, the fused silica tube was removed from the muffle furnace and cooled in air. A high-speed camera and a thermocouple[28] were used to record the cooling process of the system and the temperature history, respectively. To measure the liquidus temperature (TL) of the samples, differential scanning calorimeter (DSC) experiments (Netzsch 404 F3) were performed under a high-purity argon atmosphere, with a cooling rate of 20 K min-1 from 1,500 K to 300 K.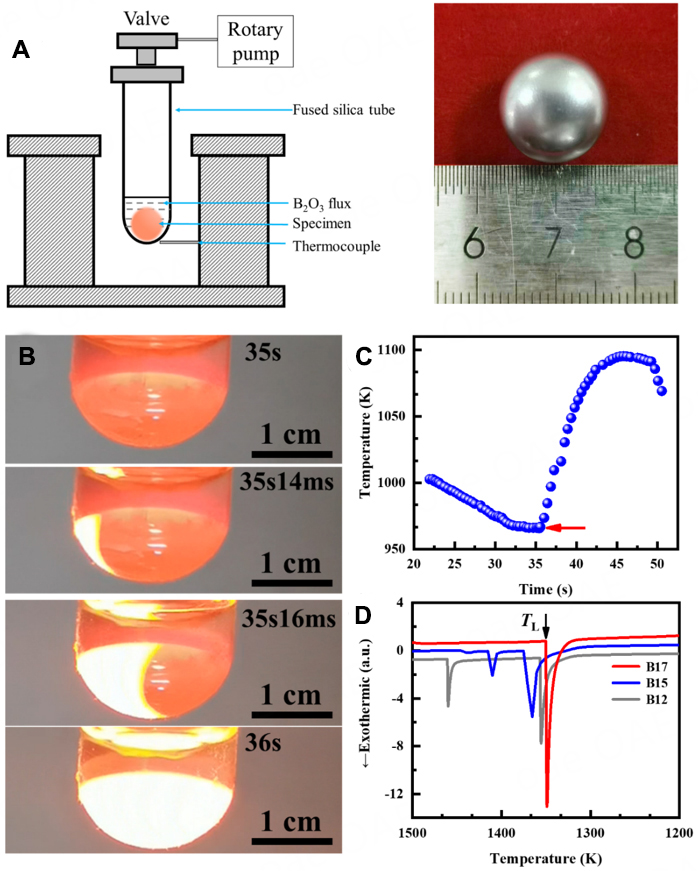 Figure 1. (A) Schematic diagram of B2O3 fluxing experiment setup (left). Photograph of alloy ingot showing the morphology of the specimen after fluxing (units: cm) (right). (B) Solidification process of molten alloy droplet, showing the recalescence phenomenon. (C) Cooling curve of [(FeNiCo)0.85Cr0.15]83B17 N-HEA melt. The red arrow indicates the occurrence of recalescence. (D) DSC curves of [(FeNiCo)0.85Cr0.15]100-xBx (x = 12, 15, 17) N-HEAs during cooling process. The black arrow indicates the liquidus temperature of [(FeNiCo)0.85Cr0.15]83B17 N-HEA.
Neutron and synchrotron X-ray diffraction experiments
Time-of-flight neutron diffraction experiments in transmission mode were carried out on the General Purpose Powder Diffractometer (GPPD) beamline at the China Spallation Neutron Source[29], with a neutron beam bandwidth and size of 4.5 Å and 40 × 20 mm, respectively. Diffraction data were collected for 2 h on each sample. The microstructure was determined by Rietveld refinement using the GSAS software[30]. In situ high-energy synchrotron X-ray diffraction measurements were performed at the 11-ID-C beamline of the Advanced Photon Source (APS, Argonne National Laboratory). High-energy X-rays with a wavelength of 0.01173 nm were used for data collection. The strain rate used in the in situ tensile test is 4 × 10-4 s-1. The lattice strain εhkl was calculated as (dhkl - d°hkl)/(d°hkl), where dhkl is the lattice spacing of the hkl planes, and d°hkl is the corresponding value for the stress-free sample[6].
Morphology characterization and mechanical tests
The morphology and composition of the alloy were characterized using FEI Quanta 250F SEM, JSM-IT500HR SEM, and FEI Talos F200X TEM microscopes equipped with an attached X-ray EDS instrument. Cylinder-shaped compressive samples with a diameter of 3 mm and a height of 4.5 mm, as well as dog-bone-shaped tensile specimens with a gauge length of 10 mm and a thickness of 1mm were fabricated by electrical discharge machining. To obtain the tensile specimens, the spherical fluxed ingots were subjected to an additional treatment, consisting of annealing at 1,273 K for 10 h, hot rolling (with 80% thickness reduction), and annealing at 1,273 K for 10 h again. Uniaxial compressive and tensile tests were performed on a UTM4304GD testing machine with a strain rate of 1 × 10-3 s-1. Hardness values were measured with a HVST-1000Z (Deka Precision Measuring Instrument) tester.
RESULTS
DISCUSSION
CONCLUSION
In this work, a series of [(FeNiCo)0.85Cr0.15]100-xBx (x = 12, 15, 17) N-HEAs combining high strength and plasticity were successfully synthesized by the B2O3 fluxing technique. We used a set of advanced characterization techniques to understand the structure and properties of these alloys. The conclusions are summarized below:
(1) The B2O3 fluxing treatment achieved a large degree of undercooling (385 K) of the centimeter-size N-HEAs alloy melts.
(2) The fluxed N-HEAs had a network-like structure with a wavelength of 3-5 μm; one sub-network consisted of a hard Cr2B-type intermetallic phase, while the other was a soft FCC solid solution.
(3) The volume fraction of the two sub-networks could be tailored by varying the B concentration, resulting in a gradual change in the yield strength and compressive strain of the N-HEAs. When the B content decreased from 17% to 12%, the yield strength decreased from 1.6 to 1.1 GPa and the compressive strain increased from 20% to 70%.
(4) N-HEAs with B contents of 12% and 15% further exhibited a good tensile ductility of 19% and 14%, respectively. The in situ synchrotron X-ray diffraction analysis of the tensile behavior demonstrated that the whole deformation process could be divided into three regions based on the lattice strain evolution. This heterogeneous deformation originated from the strength difference between the two phases. Dynamic stress partitioning between the soft FCC phase and the hard Cr2B-type intermetallic phases induced a cooperative deformation, which improved the ductility.
This work provides an industry-friendly route to fabricate N-HEAs with superior and controllable mechanical properties. Moreover, microalloying and thermal/mechanical treatment could be employed to further develop fluxed N-HEAs with excellent strength and ductility.
DECLARATIONS
Acknowledgements
We acknowledge Ms. Weixia Dong for her help in DSC measurements. This research used the resources of the Advanced Photon Source, a US Department of Energy (DOE) Office of Science User Facility operated for the DOE Office of Science by Argonne National Laboratory (No. DE-AC02-06CH11357). We acknowledge the support of the GPPD beamline of China Spallation Neutron Source (CSNS) in providing neutron diffraction research facilities.
Authors' contributions
Design: Lan S, Wu Z
Experiments and data collection: Yang X, Tao K, Guo Z, Wang L, Fu S, Lou Y, Ren Y, He L
Data analysis: Ying H, He H, Liu S, Ge J, Zhu H
Manuscript writing: Ying H, He H, Lan S, Wu Z
Manuscript revision and supervising: Lan S, Wu Z
All authors have read and agreed to the published version of the manuscript.
Availability of data and materials
The data that support the findings of this study are available from the corresponding author upon reasonable request.
Financial support and sponsorship
This work was financially supported by the National Key R&D Program of China (No. 2021YFB3802800), the National Natural Science Foundation of China (Nos. 51871120, 52222104, 52201190, and 12261160364), the Natural Science Foundation of Jiangsu Province (No. BK20200019), and Shenzhen Fundamental Research Program (No. JCYJ20200109105618137). Z.-D. Wu and S. Lan acknowledge the support of the Guangdong-Hong Kong-Macao Joint Laboratory for Neutron Scattering Science and Technology.
Conflicts of interest
All authors declared that there are no conflicts of interest.
Ethical approval and consent to participate
Not applicable.
Copyright
© The Author(s) 2023.
Cite This Article
OAE Style
Ying H, Yang X, He H, Tao K, Guo Z, Wang L, Ge J, Liu S, Fu S, Lou Y, He L, Ren Y, Zhu H, Wu Z, Lan S. Formation of strong and ductile FeNiCoCrB network-structured high-entropy alloys by fluxing. Microstructures 2023;3:2023018. http://dx.doi.org/10.20517/microstructures.2022.47
AMA Style
Ying H, Yang X, He H, Tao K, Guo Z, Wang L, Ge J, Liu S, Fu S, Lou Y, He L, Ren Y, Zhu H, Wu Z, Lan S. Formation of strong and ductile FeNiCoCrB network-structured high-entropy alloys by fluxing. Microstructures. 2023; 3(3):2023018. http://dx.doi.org/10.20517/microstructures.2022.47
Chicago/Turabian Style
Ying, Huiqiang, Xiao Yang, Haiyan He, Kairui Tao, Zheng Guo, Lifeng Wang, Jiacheng Ge, Sinan Liu, Shu Fu, Yu Lou, Lunhua He, Yang Ren, He Zhu, Zhenduo Wu, Si Lan. 2023. "Formation of strong and ductile FeNiCoCrB network-structured high-entropy alloys by fluxing" Microstructures. 3, no.3: 2023018. http://dx.doi.org/10.20517/microstructures.2022.47
ACS Style
Ying, H.; Yang X.; He H.; Tao K.; Guo Z.; Wang L.; Ge J.; Liu S.; Fu S.; Lou Y.; He L.; Ren Y.; Zhu H.; Wu Z.; Lan S. Formation of strong and ductile FeNiCoCrB network-structured high-entropy alloys by fluxing. Microstructures. 2023, 3, 2023018. http://dx.doi.org/10.20517/microstructures.2022.47