Abstract
Ferroelectric (FE) materials, which typically adopt the perovskite structure with non-centrosymmetry and exhibit spontaneous polarization, are promising for applications in memory, electromechanical and energy storage devices. However, these advanced applications suffer from the intrinsic limitations of perovskite FEs, including poor complementary metal oxide semiconductor (CMOS) compatibility and environmental issues associated with lead. Hafnium oxide (HfO2), with stable bulk centrosymmetric phases, possesses robust ferroelectricity in nanoscale thin films due to the formation of non-centrosymmetric phases. Owing to its high CMOS compatibility and high scalability, HfO2 has attracted significant attention. In the last decade, significant efforts have been made to explore the origin of the ferroelectricity and factors that influence the FE properties in HfO2 films, particularly regarding the role of microstructure, which is vital in clarifying these issues. Although several comprehensive reviews of HfO2 films have been published, there is currently no review focused on the relationship between microstructure and FE properties. This review focuses on the microstructure-property relationships in FE polycrystalline and epitaxial HfO2 films. The crystallographic structures and characterization methods for HfO2 polymorphs are first discussed. For polycrystalline HfO2 films, the microstructure-FE properties relationships, driving force and kinetic pathway of phase transformations under growth parameters or external stimuli are reviewed. For epitaxial films, the lattice matching relations between HfO2 films and substrates and the corresponding impact on the FE properties are discussed. The FE properties between polycrystalline and epitaxial HfO2 films are compared based on their different microstructural characteristics. Finally, a future perspective is given for further investigating FE HfO2 films.
Keywords
HfO2 films, ferroelectricity, phase transformations, oxygen vacancies, transmission electron microscopy
INTRODUCTION
Ferroelectric (FE) materials have non-centrosymmetric structures and present spontaneous electrical polarity that can be reversed by an applied electric field, which makes them promising for electromechanical, memory and energy storage devices[1]. Conventional perovskite FE devices can be fabricated from lead-based Pb(Zr,Ti)O3[2-4], lead-free BaTiO3[5,6] and relaxor-based (PbMg1/3Nb2/3O3)1-x-(PbTiO3)x[7-9] materials. However, these FE devices suffer from various problems during the device manufacturing process and usage, including a requirement for large thicknesses (~100 nm)[10], integration difficulties with modern complementary metal oxide semiconductor (CMOS) technology[11], small bandgaps (3-4 eV)[12,13] and environmental issues due to toxic elements like Pb and Ba[14]. Therefore, the development of lead-free FE materials that overcome these barriers is emerging.
HfO2 films are CMOS compatible and have been extensively used for high K metal-gate technology[15]. After ferroelectricity in HfO2 thin films was reported in 2011[16], HfO2 films have attracted significant interest as next-generation FEs due to their excellent properties[17-35]. First, HfO2 films are CMOS compatible due to their small thickness (~10 nm) and high resistance to hydrogen and the etching process, which makes HfO2 films promising for one transistor and one transistor-one capacitor FE memories, as well as nanoscale FE devices[36]. Second, the simple chemistry of HfO2 also makes it less prone to the perturbing effects that occur in multicomponent materials during deposition processes and simplifies theoretical studies, including ab-initio simulations[37-41]. In addition, they have a large bandgap (> 5 eV) and strong bonds between O and Hf, which can mitigate the leakage current and reliability problems commonly observed in perovskite FEs[42]. Thus, these listed advantages, together with environmental-friendly components, make them promising for commercial FE memory devices.
After almost a decade of development, materials synthesis methods and property/structural characterization techniques have been well developed for polycrystalline HfO2 films[18,21,22,25,43,44]. Excellent FE performance (e.g., remanent polarization[45-47] up to 40 μC·cm-2, coercive field[19] of ~1-2 MV cm-1, endurance of ~1011 cycles[48] and switching time[49] of ~360 ps) has been reported in HfO2 films with thicknesses of less than 20 nm, indicating that they are promising candidates for nanoscale FE field-effect transistors and three-dimensional capacitors for FE memories[45]. The ferroelectricity in polycrystalline HfO2 films is attributed to the formation of a metastable orthorhombic phase (O-phase, space group Pca21). This phase is non-centrosymmetric and does not exist in bulk HfO2. However, it can be stabilized in nanoscale films by coupling the factors of size effects[50,51], elemental doping[18,20,45,52,53] and thermal expansion strain[27,54-56].
Although there have been significant developments in the fundamental understanding and device performance of polycrystalline FE HfO2 films, several limitations remain. First, compared to their perovskite counterparts, HfO2 films possess robust ferroelectricity when the sample thickness is smaller than 100 nm, which is quite unusual. The microscopic mechanism that stabilizes the FE phase by the factors mentioned above is still not well understood, despite many macroscopic experiments having been carried out[32,33,37,38,57,58]. While transmission electron microscopy (TEM) is a powerful tool for explorations of the microscopic mechanisms in FEs[59-61], the characterization of polycrystalline HfO2 films with nanometer grain sizes is not an easy task because of the frequent grain overlapping along the electron beam direction and the random crystalline orientations. Second, the ferroelectricity of HfO2 films suffers from their polycrystalline characteristics, particularly the existence of non-FE phases and grain boundaries[62]. The coexistence of FE and non-FE phases contributes to statistical non-uniformity in FE properties and device instability, where the remnant polarization (Pr) increases with electric cycling (the "wake-up" process). These two issues are significant for devices[33]. Furthermore, the accumulation of oxygen vacancies at grain boundaries leads to subsequent permanent conduction paths, resulting in device fatigue[25]. Therefore, both fundamental investigations and practical applications have illustrated the need for systematic studies of high-quality epitaxial HfO2 thin films in terms of microstructural characterization and microstructure-FE property relations to accurately regulate the FE properties in HfO2 films.
In 2015, Shimizu et al.[63] reported epitaxial orthorhombic YO1.5-substituted HfO2 (Y:HfO2) thin films grown by pulsed laser deposition (PLD). Ferroelectricity was observed in epitaxial 7%-Y:HfO2 films deposited on (110) yttrium oxide-stabilized zirconium oxide (YSZ) single crystalline substrates using Sn-doped In2O3 (ITO) as the bottom electrode[63,64]. Since then, other groups have also reported epitaxial FE HfO2-based films on other substrates, including Si and SrTiO3[29,65,66]. Lattice matching strain is the dominant factor in stabilizing the FE phases in epitaxial HfO2 films[67,68]. A single FE phase exists in epitaxial HfO2 thin films instead of the coexistence of FE and non-FE phases in their polycrystalline counterparts. A high polarization of up to 45 μC·cm-2 and skipping of the wake-up process have been reported in epitaxial films[29,64,69,70]. In addition, single crystalline HfO2 epitaxial films are promising for TEM characterization and thus are desirable for fundamental research into this new fluorite HfO2 ferroelectrics. Therefore, recent progress in epitaxial HfO2 films has been encouraging for understanding the fundamental issues of ferroelectricity and regulating the FE performance.
The macroscopic performance of FE materials is dominated by their microstructures[71-73], which can be altered by dopants[20,74,75], film thickness[50,76-78], thermal expansion and epitaxial strain[67,68,79,80]. In addition, mechanical, electrical, electromechanical and thermoelectric properties are crucial factors for the device applications of FE HfO2 materials. These properties are sensitive to changes in the embedded microstructures. Therefore, the observation of the corresponding microstructural evolution under various growth parameters and external stimuli is necessary for understanding their structure-property relations[22,23].
There have been several review articles of FE HfO2 films that have focused on film deposition, macroscopic FE properties, device fabrication and defect chemistry[36,51,62,75,81-89]. However, none of them deal with the relationship between microstructure and macroscopic FE properties, despite the fact that there has been a large number of publications that consider the microstructures of HfO2 FEs since the first demonstration of ferroelectricity in HfO2 films[16,18]. Therefore, a review focusing on the microstructure-FE behavior in HfO2 films is urgently required. Since the existing phases in polycrystalline and epitaxial films are quite different, we place particular emphasis on these films. For example, considering the coexistence of FE and non-FE polymorphs in polycrystalline HfO2 films, the FE phase fraction adjusted by growth parameters and microstructural evolutions under external stimuli are emphasized. Single-crystal HfO2 films can be obtained by size effect and epitaxial strain between the films and electrodes/substrates, thus the different matching relations between HfO2 films and substrates are focused on, in which the microstructure of the interfacial region between HfO2 films and electrodes/substrates is given particular attention.
In this review, we first introduce the polymorphs of HfO2, the characterization techniques for microstructures and the identification methods of FE phases. For polycrystalline HfO2 films, we review their growth methods, the impacts of growth parameters on the FE phase fraction and properties, and the phase transformations under external stimuli, e.g., temperature and electric loading. The thermodynamic driving force and kinetic pathway for phase transformation, which are vital for adjusting the FE phase fraction for the FE properties, are also discussed in this context. In epitaxial HfO2 films, microstructures and FE properties are controlled by lattice mismatch and interfacial chemistry between HfO2 films and electrodes/substrates, which are also reviewed here. The microstructures and FE behaviors (polarization, wake-up stage and device fatigue) in polycrystalline and epitaxial HfO2 films are then compared. Finally, the major conclusions are given and outstanding issues for future investigation in the field are presented.
IDENTIFICATION OF FE PHASES IN HfO2 FILMS
It once seemed impossible to observe ferroelectricity in nanoscale HfO2 films for two reasons: (1) a non-centrosymmetric crystal structure is necessary for FEs, but previously reported polymorphs of HfO2 are centrosymmetric, and (2) according to our knowledge of conventional perovskite FEs, it is unlikely to have nanoscale FEs. Therefore, it is important to identify FE phases in HfO2.
Polymorphs of bulk HfO2
Bulk HfO2 crystals present different polymorphs depending on the temperature and pressure. The left branch of Figure 1 lists the stable crystal structures reported in bulk HfO2 in the sequence based on symmetry reduction from the highest-symmetry cubic phase (C-phase, space group Fm$$\bar 3$$m) that exists above 2773 K[38]. During the cooling process, the C-phase transforms to a tetragonal phase (T-phase, space group P42/nmc) at 2773 K by symmetry reduction and then to a monoclinic phase (M-phase, space group P21/c) at 1973 K[90]. The M-phase is the most stable phase at room temperature and atmospheric pressure. At high pressure, bulk HfO2 has two orthorhombic polymorphs, denoted as orthoI (space group Pcba) and orthoII (space group Pmna)[91]. OrthoI is transformed from the T-phase by symmetry reduction under pressures between 4 and 14.5 GPa. OrthoI changes to orthoII with a pressure above 14.5 GPa and the transition pressure is almost independent of temperature[92]. All of these polymorphs have a center of symmetry, which is marked by the green point in each structure in the left branch of Figure 1. The centrosymmetric feature of these structures cannot induce ferroelectricity.
Figure 1. Symmetry-reduction flowchart of low energy phases of HfO2, starting from the C-phase. The left branch shows stable non-polar phases and the right branch presents polar phases obtained from first-principles calculations. Dark yellow and red spheres represent hafnium and oxygen atoms, respectively, while green spheres indicate the center of symmetry of the centrosymmetric phases[38].
Identification of FE HfO2 phases
Although the stable bulk HfO2 phases are centrosymmetric, HfO2 films with a nanoscale thickness, as well as properly doped HfO2 bulk crystals, can show another landscape. Compared with undoped bulk HfO2 crystals, atomic layer deposition (ALD) processed undoped HfO2 films with a thickness of 6 nm have robust ferroelectricity due to the formation of the FE O-phase under a nanoscale grain size effect[93]. These FE properties can be further enhanced by lowering the oxidant dose[94] and modulating the water pulse time[95] during the ALD process. In addition, ferroelectricity can also be stabilized in bulk HfO2 single crystals after 12% yttrium doping and a fast quenching process[34]. However, the most common and robust ferroelectricity is observed in nano HfO2 films doped with various elements.
The first report confirming robust ferroelectricity in HfO2-based materials was for Si-doped HfO2 (Si:HfO2) films with a thickness of 10 nm, in which the formation of a non-centrosymmetric O-phase (space group Pbc21) analogous to Mg:ZrO2 was also observed by grazing incidence X-ray diffraction measurements[16]. To identify the accurate atomic occupation of this FE structure in HfO2, density functional theory (DFT) calculations were firstly used to predict polar O-phases. First-principles calculations suggested that the two most viable FE phases are Pca21 and Pmn21 and that these two non-centrosymmetric equilibrium phases have similar free energies[38]. As shown in the right branch of Figure 1, the non-centrosymmetric structures with space groups of Pca21 and Pmn21can be obtained by distorting the P42/nmc structure along the [110] and [100] directions, respectively. The lattice parameters of these phases are summarized in Table 1[29,32,38,53,74,96-98]. The polarization of the Pca21 and Pmn21 phases can be 180° switched with small energy barriers, serving as two topologically equivalent variants with opposite polarization referred to as the "up" and "down" states. The energy barrier between the "up" and "down" states of the Pca21 and Pmn21 phases at 0 Pa were estimated to be 40 and 8 meV/atom, respectively.
Table 1
Lattice parameters of HfO2 polymorphs
Polymorphs
a (Å)
b (Å)
c (Å)
β (°)
Notes
Source
M (P21/c)
5.120
5.180
5.300
99°11'
XRD, 1970[96]
T (P42/nmc)
5.140
5.250
90°
1920 °C
XRD, 1954[90]
5.1750
5.325
2000 °C
XRD, 1975[97]
NP-O (Pbcm)
5.054
5.270
5.115
2.6 GPa
XRD[98]
NP-O (Pbca)
5.230
10.020
5.060
XRD
P-O (Pmn21)
3.415
5.182
3.834
DFT, 2014[38]
P-O (Pca21)
5.290
5.010
5.080
DFT
5.230
5.000
5.050
Gd:HfO2
XRD, 2015[53]
5.240
5.060
5.070
Gd:HfO2
STEM, 2015[32]
5.240
5.010
5.050
Hf1/2Zr1/2O2
XRD, 2012[74]
P-R (R3)
7.106
7.106
9.016
γ = 120°
Bulk HfO2
First-principles calculation, 2018[29]
P-R (R3m)
7.134
7.134
8.741
Bulk HfO2
6.683
6.683
10.041
compressed
Sang et al.[32] confirmed the Pca21 phase in Gd-doped HfO2 (Gd:HfO2) FE thin films by combining scanning transmission electron microscopy (STEM) and position averaged convergent beam electron diffraction (PACBED)[32,63]. The crystal structures of the centrosymmetric M-phase (P21/c) and O-phases (Pbcm and Pbca), non-centrosymmetric O-phases (Pca21 and Pmn21) and their corresponding atomic projections along the four major zone axes are presented in Figure 2A. The Pca21, Pbcm and Pbca phases have the same projected columns of Hf atoms but different projected columns of O atoms along the four main zone axes. Figure 2B shows STEM-high angle annular dark-field (STEM-HAADF) images of FE HfO2 films along the four main zone axes, which are consistent with the projections of the Hf columns in the Pca21, Pbcm and Pbca phases. Because O atoms are much lighter than Hf atoms, it is only possible to image Hf atoms under STEM-HAADF imaging mode, resulting in difficulties in distinguishing these phases. PACBED was then applied to find the difference between the Pca21, Pbca and Pbcm phases by the projected symmetry information. Thus, the presence of the Pca21 phase in Gd:HfO2 thin films is indirectly confirmed, which shows a non-centrosymmetry feature and is responsible for ferroelectricity in HfO2 films[37,38].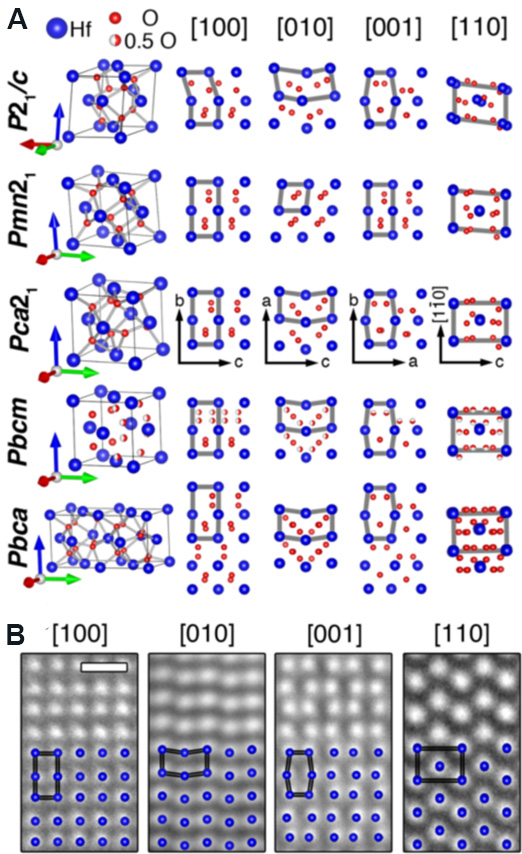 Figure 2. (A) HfO2 crystal structures for M-phase (P21/c), two non-centrosymmetric O-phases (Pmn21 and Pca21) and two centrosymmetric O-phases (Pbcm and Pbca) and their atom projections along four major zone axes. (B) STEM-HAADF images of Gd:HfO2 films acquired along four major zone axes, which are the same for the Pca21, Pbca and Pbcm phases. Scale bar is 0.5 nm[32]. STEM-HAADF: Scanning transmission electron microscopy-high angle annular dark-field.
Recently, Luo et al.[99] provided evidence to distinguish these O-phases in Hf0.5Zr0.5O2 (HZO) thin films by directly mapping oxygen atoms using atomic-scale STEM-HAADF and STEM annular bright-field (STEM-ABF) techniques. Figure 3A-C show the sublattice of the Hf/Zr and O atoms projections along the [010] axis of HZO phases with different space groups. The O atom projections in the blank rectangle are different between the Pca21, Pbca and Pbcm phases. Figure 3D and E present atomic-resolution STEM-HADDF and STEM-ABF images of FE HZO films, respectively, in which the Hf/Zr and O atomic columns along the [010] axis match very well with the simulated results of the Pca21 phase.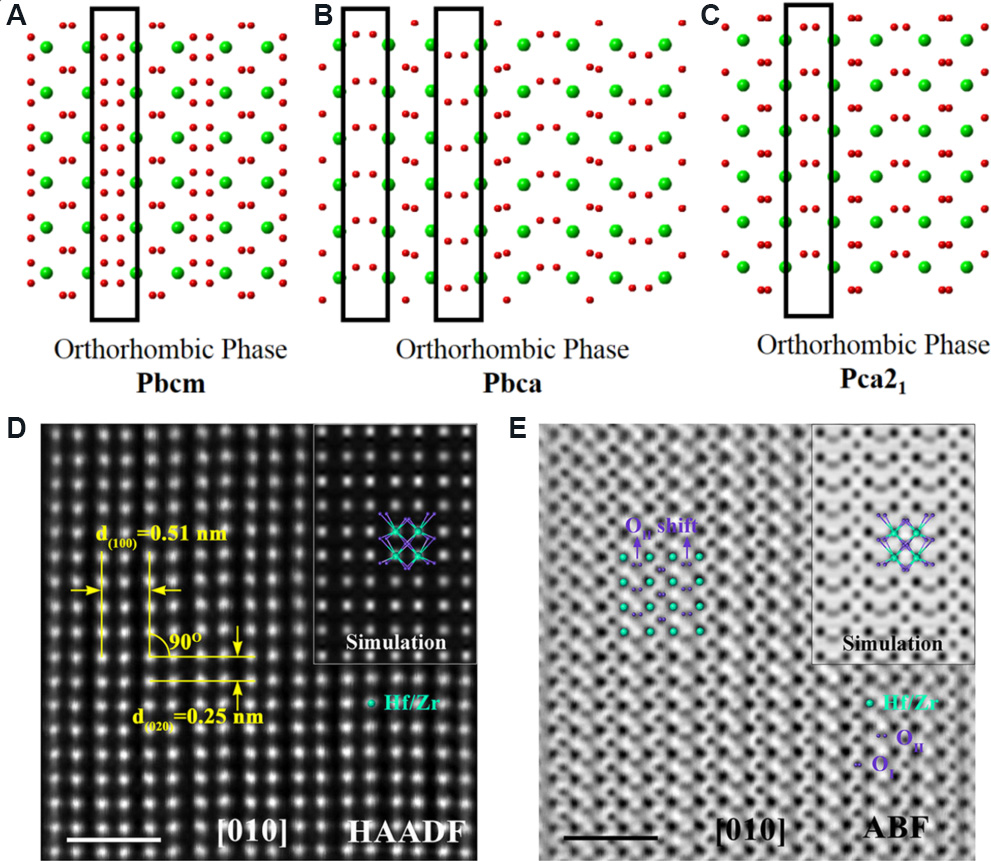 Figure 3. Projections of crystal structures of HfO2 with three O-phases along the [010] axis. The arrangements of O atoms in the black rectangles are different among (A) Pbcm, (B) Pbca and (C) Pca21. (D) STEM-HAADF image of HZO phase projected along [010] zone axis. Scale bar of 1 nm. (E) STEM-ABF image of (D) with the inset being a simulated ABF image. Scale bar is 1 nm[99]. STEM-HAADF: Scanning transmission electron microscopy-high angle annular dark-field; HZO: Hf0.5Zr0.5O2; ABF: annular bright-field.
With the exception of the Pca21structure, a rhombohedral phase (R-phase) with the R3m space group is also non-centrosymmetric. The R3m structure is obtained in epitaxial (111)HZO/(001) La0.7Sr0.3MnO3 (LSMO)/SrTiO3 (STO) substrates, as shown in Figure 4A and B. Devices based on this phase exhibit a large remanent polarization (Pr) of 34 μC·cm-2 and are free of a wake-up process. The R3m phase is only observed in epitaxial thin films, while the commonly reported Pca21phase can be found in both polycrystalline and epitaxial films. According to DFT calculations, the Pca21 phase has lower free energy than the R3m phase and is thus more stable and common in FE HfO2 films. However, epitaxial strain and size effects favor the R3m phase[29].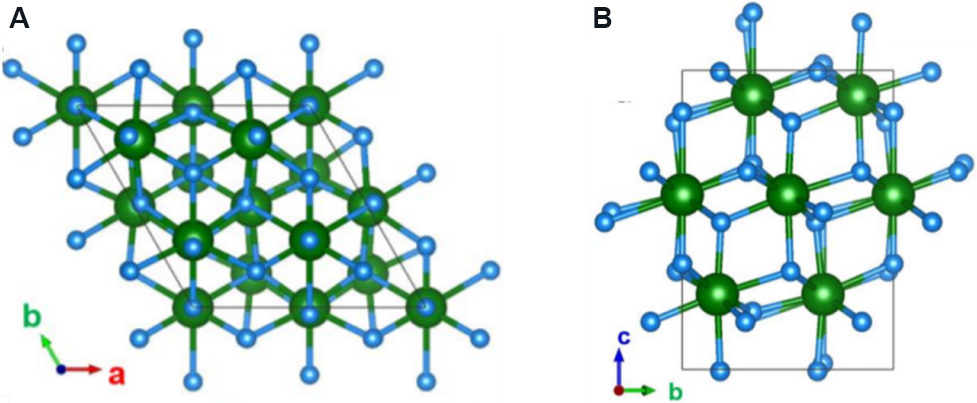 Figure 4. Polar R-phase (R3m) viewed from (A) the [001] axis and (B) the [100] axis of bulk HfO2 obtained by first-principles calculations. Hf and O atoms are represented by green and blue spheres, respectively[29].
FE HFO2 POLYCRYSTALLINE FILMS
In this section, various deposition methods for polycrystalline HfO2 films are reviewed, followed by the impact of the growth parameters on the FE phase and properties of HfO2 films, including dopants, film thickness and strain conditions. Finally, the phase transformation and FE properties under external stimuli, e.g., temperature and electric cycling, are also discussed.
FERROELECTRICITY AND MICROSTRUCTURAL EVOLUTION UNDER EXTERNAL STIMULI
Since FE HfO2 films are promising for memory devices and energy storage applications operating under repeated electric or thermal loading, the materials properties and corresponding device performance under external stimuli, such as temperature and electric field, must be considered. In this section, the phase transformations and FE device performance evolution under external stimuli in HfO2 films are reviewed.
Temperature
Temperature-dependent ferroelectricity is an interesting topic in FE HfO2 films. The FE-AFE transition with a temperature increase from 0 to 180 °C was first reported in 3.8 mol.% Si-doped HfO2 films by Böscke et al.[18]. A lower transition temperature occurs at higher Si concentrations. Similar temperature-induced FE phase transformations were also reported in HZO solid systems and Al-doped HfO2 films[20,74]. This phenomenon is very useful for energy-related applications in nanoscale devices, such as electrocaloric cooling devices[31,51,139,140]. Hoffmann et al.[23] reported that giant pyroelectric coefficients up to 1300 μC/(m2 K) were achieved due to the temperature-induced structural transition. The ultra-high pyroelectric coefficient comes not only from usual pyroelectric behavior but also from a phase transformation associated with a large change of polarization with temperature. Encouraged by the significant potential of energy storage and transfer applications, further fundamental knowledge behind this temperature-induced FE property evolution was explored, especially with its structural mechanism. Park et al.[122] investigated remanent polarization-microstructure relation from 80 to 400 K. Figure 11A gives an intensity contour map of grazing incidence X-ray diffraction (GIXRD) patterns of Si-doped HfO2 films from 110 to 410 K. With decreasing temperature, the normalized intensities of the O-phase (110)o and (120)o diffraction peaks increase from almost 0 to 0.25 and 1, respectively. This provides direct evidence of the T- to O-phase transformation [Figure 11B-G] and as the origin of the changes of the P-E curves [Figure 11H-M].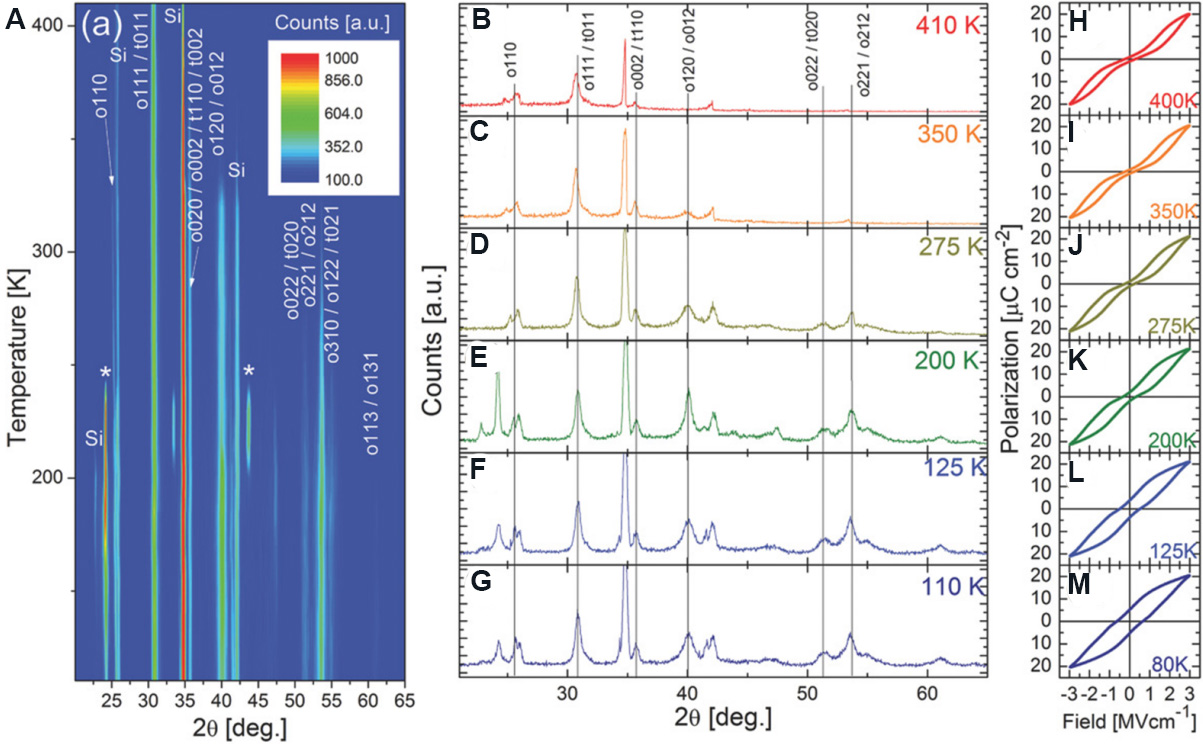 Figure 11. (A) An intensity contour map of GIXRD patterns of Si-doped HfO2 films from 110 to 410 K. GIXRD patterns of Si-doped HfO2 films measured at (B) 410, (C) 350, (D) 275, (E) 200, (F) 125 and (G) 110 K. P-E curves of Si-doped HfO2 films measured at (H) 400, (I) 350, (J) 275, (K) 200, (L) 125 and (M) 80 K[122]. GIXRD: Grazing incidence X-ray diffraction
Electric field
Although HfO2 FEs show significant potential for resolving critical difficulties that deter the commercialization of FE memories, they also suffer from remarkable instability issues induced by electric fields, namely, wake-up and fatigue[25,33,118,141]. A significant enhancement in ferroelectricity by electric field loading was first reported in Gd-doped HfO2 films by Mueller et al.[126]. Later, Zhou et al.[118] provided detailed experimental results in polarization change and identified it as the wake-up behavior in Si-doped HfO2 films. At the wake-up stage, Pr increases with electric cyclings and the two previously existing asymmetric coercive voltages tend to be symmetric. After the wake-up stage, the Prof HfO2 films show a degradation when the electric cycling continuously increases, leading to device failure (fatigue). Non-volatile FE memory devices are subjected to frequent read-out and write-in operation require robust stability. The electric field induced switching behaviors and phase transformation have side effects on device stability, thus their behaviors and the mechanism behind them should be understood for further device optimization.
The wake-up behavior is attributed to a transition of built-in bias. Pešić et al.[25] investigated some electrical parameters, including polarization, built-in bias and leakage current, which induce wake-up and fatigue, and concluded some trends during cyclic loadings. In the initial wake-up stage, the polarization increases while the built-in bias diminishes with a constant leakage current [Figure 12]. The constant leakage current indicates that no new defects form at this stage. Therefore, a possible origin for built-in bias is the evolution of the local defect (e.g., oxygen vacancies) distribution and/or phase transformation within a device. These oxygen vacancies are expected to occur at the interface between the TiN electrode and HfO2 films in the pristine HfO2 films, which induce the asymmetric distribution of the internal field that results in two peaks in the switching current curve [Figure 12B]. During the electric cycling process, these charged oxygen vacancies can move into the internal film under the electric field. The redistribution of oxygen vacancies improves the asymmetric internal field, which makes the two peaks (pristine state) in the switching current merge into one (wake-up state).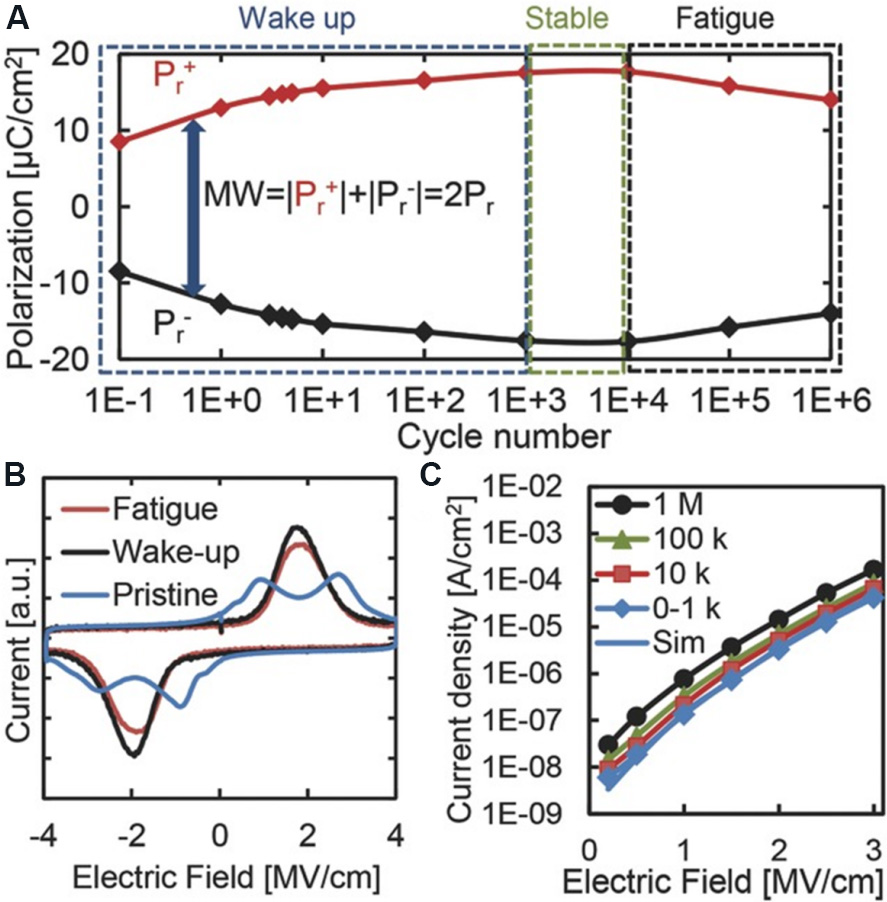 Figure 12. (A) Pr of Sr:HfO2 FE capacitors as a function of electric cyclings. (B) Current-voltage curves for the pristine, wake-up and fatigue stages. (C) Leakage current-electric field curves measured after different cycling numbers[25]. Pr: Remanent polarization; FE: ferroelectric.
In addition, a phase transformation is expected with increasing cyclic loadings. The bulk region undergoes an M-phase to O-phase transformation, while the interfacial region undergoes a T-phase to O-phase transformation, as confirmed by TEM characterization[25]. The field-induced phase changes at the wake-up stage were also observed by TEM in 10-nm-thick Si- and Gd-doped HfO2 films[33,119,142]. The O-, C- and T-phase to M-phase ratio is 0.2 for pristine films and increases to 1 after 1000 cycles, representing a phase transformation from the M-phase to the O-, C- and T-phases upon the electric cycle loadings, as shown in Figure 13A[33]. Similar phase transformations during the wake-up process were also observed by X-ray diffraction. Fields et al.[121] observed a decrease in the full width at half-maximum of the T- and O-phase superimposed peak, from 0.425 before the wake-up process to 0.406 after wake-up, which indicated the phase change from the T-phase to the O-phase during the wake-up process. A similar result was also reported in undoped and Y-doped HfO2 films by Nittayakasetwat and Kita[143].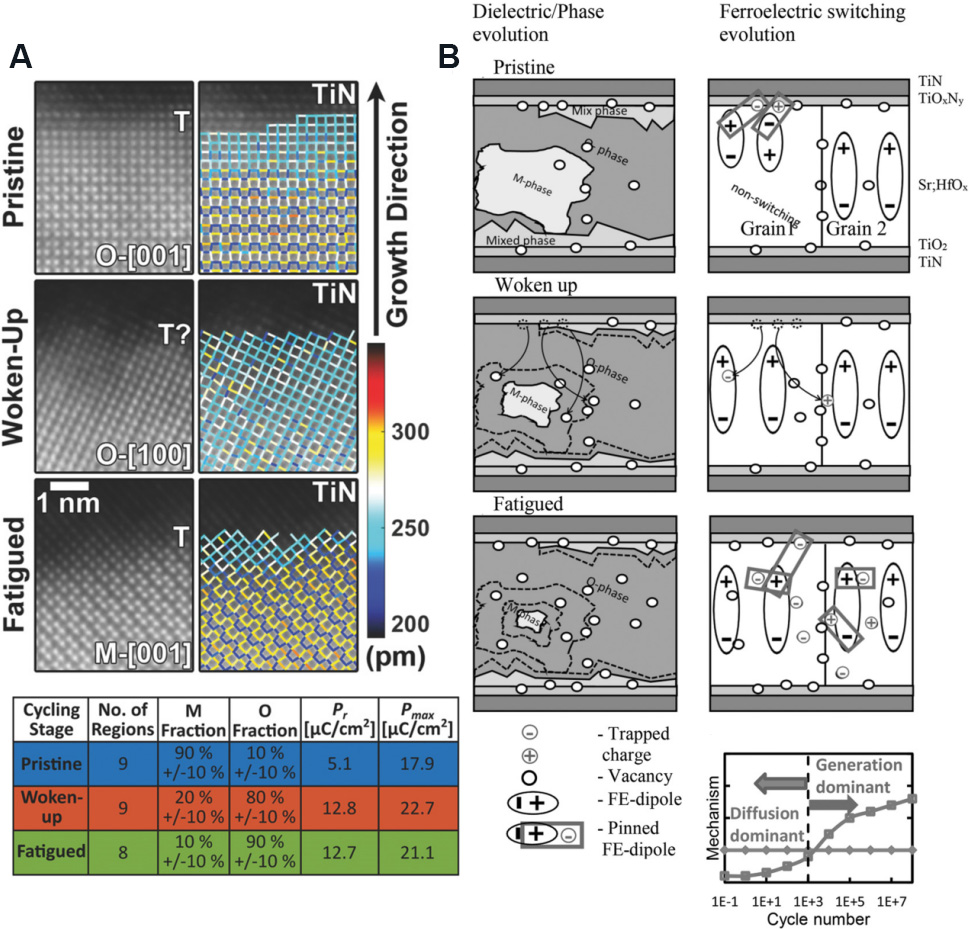 Figure 13. (A) STEM-HAADF images of HfO2 films at pristine, wake-up and fatigue stages, showing phase transformation and corresponding phase fractions at different stages[33]. (B) Proposed physical mechanism behind the field-induced FE behavior by coupling with phase transformation, defect generation and diffusion, and charge injection[25]. STEM-HAADF: Scanning transmission electron microscopy-high angle annular dark-field; FE: ferroelectric.
It is noteworthy that the redistribution of oxygen vacancies and the phase transformation during the wake-up process should not be considered separately. Previous experimental investigations indicate that the formation of the stable M-phase could be suppressed by an oxygen deficient atmosphere[62,102], while computational simulations suggest that the O-phase has a lower free energy with increasing oxygen vacancies[53]. Mittmann et al.[55] claimed that oxygen vacancies may act as nucleation sites for the polar phase, which promise a large number of nuclei that leads to a small average grain size during the crystallization process and therefore stabilizes the O-phase. During the wake-up process, oxygen vacancies can diffuse into the film interior easily at such a high electric field (in the order of MV cm-1), which may result in the phase transformation to the O-phase.
After the wake-up process, if the FE HfO2-based devices are applied with continuous electric cyclic loadings, these devices will reach the fatigue stage. At present, the reported field cycling endurance for devices based on polycrystalline La-doped HfO2 films[48] is no more than 1011. This value is much smaller than that of their perovskite counterparts (1015 for the MSP430 FR573x microcontroller, Texas Instruments[84]), making it a critical problem for HfO2-based devices. During the fatigue process, the leakage current increases, along with the reduction of polarization, which is attributed to the formation of new defects, e.g., Hf and O vacancies and their accumulation near grain boundaries. Pešić et al.[25] investigated the fatigue stage using dielectric-based simulation software and a commercial TCAD Sentaurus device simulator tool. The complete device stack is defined as TiN (top)/TiOxNy/TM-HfOx/FE-HfO2/TM-HfOx/TiOx/TiN (bottom), where TM-HfOx is the interfacial region consisting of a nonswitchable transitional material. In the fatigue stage, oxygen vacancies are generated at the electrode near the TiOx interface. The non-switchable regions, TM-HfOx, reduce the switching electric field for the FE layer and thus the number of switchable domains and polarization decrease.
Park et al.[84] discussed the limited endurance of FE HfO2 films and the possible affected factors on this phenomenon. They reported that both grain size and doping concentration influence the endurance property. In the case of polycrystalline FE HfO2 films, the FE O-phase is stabilized by the nanoscaled grain sizes in HfO2 films that result in significant grain boundaries for the accumulation of oxygen vacancies. Therefore, HfO2 films with larger grain sizes are expected to possess higher endurance, while the M-phase fraction also increases, resulting in a reduction in remanent polarization. In addition, the largest 2Pr of 40 μC·cm-2 is observed when the Zr doping concentration reaches 50%, while the worst endurance of ~107 is also recorded in this doping concentration[84]. They also noticed a "Pr-endurance dilemma", a high Pr value usually leads to poor endurance in HfO2 films. This dilemma is consistent with the above mentioned grain size and doping concentration effects. It can be further explained from the structural aspect if we focus on the oxygen vacancies and grain boundaries that induce the breakdown. In polycrystalline HfO2 films, the Pr value is almost determined by the FE O-phase fraction. As we mentioned before, the free energy of the O-phase is lowered by increasing oxygen vacancies[53]. Therefore, if the HfO2 film has a higher fraction of the O-phase (almost equivalent to higher Pr), it may contain a larger concentration of oxygen vacancies, resulting in devices breakdown under repeated electric cycles. In addition, the O-phase has lower interfacial energy than the M-phase, thus a higher surface-to-volume ratio favors the stabilization of the O-phase. A high surface-to-volume ratio can be achieved by decreasing grain size, which leads to a large Pr but more grain boundaries for the accumulation of oxygen vacancies. Therefore, high endurance and Pr are rarely obtained simultaneously in polycrystalline films.
Retention is another significant parameter for FE devices. FE HfO2 films can achieve retention times of up to a decade, which is higher than the retention time in perovskite FE materials, e.g., PZT [Pb(Zr,Ti)O3][69,144]. The high retention in HfO2 films is related to the reduced depolarization field/coercive field and trapping effects. Gong and Ma[144], Ma et al.[145] suggested that if the depolarization field is comparable to or smaller than Ec, the polarization decay for retention is low. In HfO2 FEs, the large Ecof ~1-2 MV cm-1 results in minimal polarization loss. In addition, the electron injection is induced by the remanent polarization during the device working, which is followed by electron trapping and then diminished polarization in the FE layer. In HfO2 FE films, the internal defects concentrations, e.g., grain boundaries, domain walls and point defects, are key to the polarization loss. Compared with perovskite FEs that have large thicknesses of ~100 nm, HfO2 films with thicknesses of ~10-40 nm possess robust ferroelectricity, in which the trap concentration is reduced by the thin film deposition.
As discussed above, the limited endurance and the long retention in HfO2 films are related to the very large Ecof ~1-2 MV cm-1, which is much higher than that of conventional perovskite FEs (~0.05 MV cm-1)[81]. Such a large Ecbrings both advantages and disadvantages to HfO2-based FE films. For example, HfO2 FE devices require a high driving voltage (≥ 3.0 V for 10-nm-thick films) to reach the saturated remnant polarization (2Pr) value due to the large Ec, and thus, degrades the device reliability during the endurance test. However, it improves the scalability of HfO2 film-based FeFET devices. The memory window (MW) of a FeFET is estimated as MW = 2Ec× t, where Ec is the coercive field and t is the thickness of the FE layer. From this aspect, the higher Ec is helpful to reduce the device dimensions. In addition, higher Ec can improve the retention of the FeFET of HfO2 films. This makes the Ec value attractive at a certain level.
This electric field-induced FE behavior is normally related to the phase transformation. However, the mechanism behind it is unclear. Pešić et al.[25] revealed that the existing defects, e.g., oxygen vacancies, can redistribute under the electric field, resulting in a phase transformation, as shown in Figure 13B. However, it is difficult to observe the direct evidence of defect redistribution under the electric field due to the present limitations of film quality and experimental techniques. Recently, FE domain switching behavior was observed due to the epitaxial rhombohedral (R-phase) HfO2 films with high single crystalline quality. Nukala et al.[146] showed the drift of oxygen vacancies across the HZO films between two LSMO electrodes by in-situ TEM with the integrated differential phase contrast (iDPC) mode. The oxygen vacancies move to the bottom electrode from the HZO films when the positive bias increases from 0 to 2 V. At a bias of 4 V, a phase transformation from the R-phase to M- and O-phases occurs [Figure 14]. It is noteworthy that the oxygen-reactive top LSMO electrode is the main source and sink of oxygen. This observation clarifies the microstructural origin of phase transformation from the R-phase to the O- and M-phases. However, this phase transformation path is not the most common one between the M- and O-phases. Therefore, further investigations should be carried out for FE HfO2 films with the O-phase with the Pca21 space group.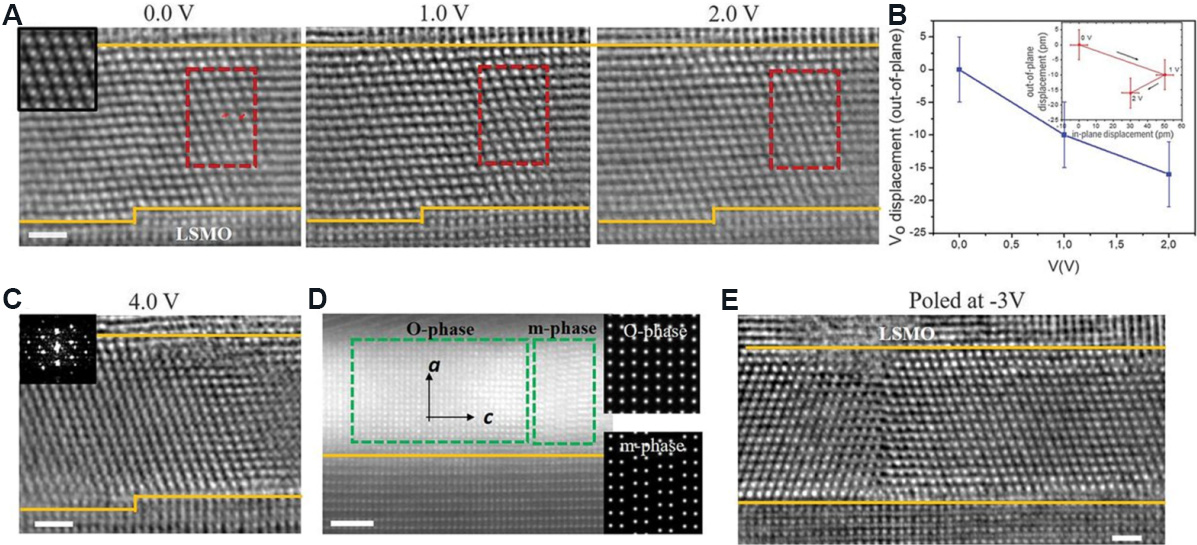 Figure 14. Oxygenation and deoxygenation of HZO and associated phase transformations. (A) STEM-iDPC images under increasing positive bias showing R-phase evolution of an HZO grain. (B) Out-of-plane displacement of VO with external bias in the marked supercell (red box) with respect to the positions in (A). Negative values indicate displacement toward bottom electrode. VO shows both in-plane and out-of-plane (toward bottom electrode) components (inset). (C) A new grain nucleates in the same region at +4 V, giving rise to a polycrystalline nature (FFT in inset). (D) Another region in HZO film back at 0 V showing the O- and M-phases. Note the change of orientation from [111] to [100]. (E) STEM-iDPC image of domains (mutually rotated by 180° about [111]) in R-phase, which is retained when poled at -3 V (imaged at 0 V). Scale bars: 1 nm in (A, C, E), 2 nm in (D). Interfaces between HZO and top and bottom LSMO are marked in orange[30]. HZO: Hf0.5Zr0.5O2; STEM-iDPC: scanning transmission electron microscopy-integrated differential phase contrast; LSMO: La0.7Sr0.3MnO3.
FE HfO2 EPITAXIAL FILMS
As discussed previously, polycrystalline HfO2 films have advantages in certain areas, including easy fabrication and CMOS compatibility for practical applications. However, some disadvantages hinder the practical application of these films. For example, problems related to the electric field induce wake-up and fatigue processes in HfO2 films, which significantly influence the device stability. The wake-up effect is attributed to the M- to O-phase transformation[33] and the fatigue may be induced by the accumulation of oxygen vacancies at grain boundaries in polycrystalline HfO2 films[121]. Epitaxial HfO2 films, possessing single-crystalline and boundary-free characteristics, are of significant interest in optimizing FE performance. This includes the elimination of the wake-up effect due to the phase transformation and extension of the device lifetime due to oxygen vacancy accumulation at grain boundaries. In addition, epitaxial HfO2 films can serve as a model system for physical mechanism investigations of new fluorite FE materials due to their single crystalline characteristics. In this section, the lattice matching relations between substrates and epitaxial HfO2 films are reviewed, followed by comparisons between polycrystalline and epitaxial HfO2 films in terms of their polarization, wake-up effect and fatigue behavior. Finally, some recent in-situ TEM observations of high-quality epitaxial films are reviewed.
CONCLUSIONS, CHALLENGES AND PERSPECTIVES
In conclusion, the discovery of ferroelectricity in fluorite-structure HfO2 films has both commercial potentials and fundamental research meanings as next-generation FE devices. Since HfO2 films have promising CMOS compatibility and high scalability, they will attract increasing interest for future memory devices. The inspiring development will encourage more explorations of new FE materials, such as nano-scale amorphous Al2O3 that is promising for non-volatile field-effect transistors[168]. In addition, the discovered ferroelectricity in this new-type fluorite material and nanoscale films triggered significant interest in fundamental investigations. Some results have been obtained. For example, the unexpected ferroelectricity in HfO2 films is attributed to the non-centrosymmetric O-phase Pca21 or R-phase R3m. These phases are metastable but can be stabilized by various growth parameters, e.g., dopants, film thickness and interfacial strain. In addition, FE HfO2 films exhibit PE-FE-AFE/PE evolution under external stimuli (temperature and bias). In particular, the Prof HfO2 ferroelectrics increases with electric cycles during the wake-up stage, followed by a decrease to a low value until device failure at the fatigue stage, leading to significant stability concerns for practical electronic devices. These two stages are related to the complicated interplay between phases transformation, defects redistribution and generation, and charge injection, significantly affecting the device stability and lifetime.
As discussed in this review, the FE properties and microstructural evolution under external stimuli are determined by film microstructures. Thus, a clear understanding of the microstructural transformation is a vital step for optimizing the FE properties of HfO2 devices. Electron microscopy is a powerful tool to give atomic-level structural information. It has made a great contribution to these fundamental issues in HfO2 films, e.g., characterization of FE phase, nanoscale grain morphology and interfacial regions between HfO2 films and electrodes. However, there are still some important issues rely on the thorough investigation of microstructures.
First is the impact of dopants on the microstructure transformation. In the present research, it is clear that the FE phases and FE properties can be adjusted by the dopants. But how does it happen? The general mechanism of the dopant effect is not clear yet. Understanding this issue can give a guideline for ferroelectrics design with suitable FE or AFE properties. However, there is a complicated coupling interplay among phase transformation, defects, and dopants. Generally, defects in HfO2 films are adjusted by dopants, and then both of them influence the phase transformation, the determined relations among them should be clarified. It is quite difficult to directly observe the defect migration without reliable characterization tools. Fortunately, the state-of-the-art STEM and spectroscopy techniques, including annular bright field imaging, high-angle annular dark-field imaging, (integrated) differential phase-contrast imaging, and electron energy loss spectroscopy techniques provide unique opportunities to directly precisely map the structural and elemental information of both the dopant elements and matrix elements in atomic scale[59,169-173]. Heavy and light elements can be detected and displayed simultaneously, providing a full spectrum of visualizing the microstructures-properties relationship. In the future, these techniques will be powerful tools for further investigation of the relationship between microstructures and FE properties.
Another important issue regarding HfO2 films is their FE property evolution with external stimuli, e.g., wake-up and fatigue. For electronic devices, repeatable device operation with bias voltage is required. The instability problems, such as wake-up and fatigue, should be suppressed. Therefore, the mechanism, especially the microstructural origin, behind these phenomena should be clarified. In-situ electron microscopy, including heating[174], biasing[30,175], straining[176,177] and their combinations, in a STEM/TEM have been very powerful in understanding the dynamic and kinetic behavior of FE materials. Phase transformation, oxygen octahedral tilting, defect migration, domain evolution under separate/combined biasing, straining and heating environments could be captured and analyzed in real-time. The recorded high spatial, temporal, and energy resolution of the recording information from state-of-the-art in-situ electron microscopy opens a new door to address these critical questions in FE HfO2 material systems.
DECLARATIONS
Authors' contributions
Made the literature review and drafted the original version: Zhao D
Revised the manuscript: Chen Z, Liao X
Conceived and supervised the project: Chen Z, Liao X
Availability of data and materials
Not applicable.
Financial support and sponsorship
This project is supported by the Australian Research Council Discovery Project DP190101155.
Conflicts of interest
All authors declared that there are no conflicts of interest.
Ethical approval and consent to participate
Not applicable.
Consent for publication
Not applicable.
Copyright
© The Author(s) 2022.
Cite This Article
Zhao D, Chen Z, Liao X. Microstructural evolution and ferroelectricity in HfO2 films. Microstructures 2022;2:2022007. http://dx.doi.org/10.20517/microstructures.2021.11